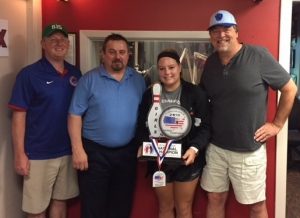 For the second year in a row, the Harlem girls bowling team is the national champion.
And to take it even one step farther, the Huskies also boast an individual national titleist in Kayla Verstraete.
The U.S. High School Bowling National Championships took place last weekend in Fairview Heights, Ill. near O'Fallon, the home of the IHSA state boys tournament. The nationals featured bowlers from 21 states.
The Huskies had to come from behind to capture the team title, and Verstraete did the same for the individual crown, needing six straight strikes at the end to win by just two pins.
Coach Jimmy Heathscott and Kayla joined Randy & Co. to talk about the eventful weekend and the very bright future of the Huskies' program for this upcoming school year.