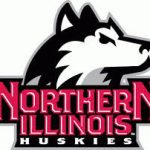 For the first time since 2013, the Northern Illinois University Huskies have been picked as the preseason favorites to win the Mid-American Conference West Division by league media members.
The MAC released its 2018 MAC Football Media Preseason Poll today during MAC Media Day at Ford Field in Detroit.
NIU received 133 total points to take the top spot in the West, eight points better than second place Toledo (125 points).  Western Michigan (87 points), Eastern Michigan (67), Central Michigan (58) and Ball State (34) rounded out the West Division voting.  NIU received 15 first place votes and Toledo seven, while Western Michigan and Central Michigan each collected one first-place vote.
"The preseason poll is great for our fans to get excited about the season, and we're happy to have the respect of the league media, but we know we have to go out and prove it on the field," said NIU Head Coach Rod Carey, who enters his sixth full season with NIU.
This year marks just the third time in the last 10 years of the MAC Preseason Poll that the Huskies have topped the West Division rankings. Both the 2010 and 2013 NIU squads were selected as preseason favorites and went on to win the division and play in the MAC Championship game.  NIU was picked to finish third in each of the three previous preseasons (2015-17) and finished second in the voting in 2011, 2012 and 2014.
Media members selected Ohio as the team to beat in the East Division, and as the likely MAC Championship game winner. The Bobcats earned 140 points and 21 of the 24 first place votes on the East side.  Buffalo (112), Miami (95), Akron (74), Bowling Green (58) and Kent State (25) were in the two through six spots for the East.
— Courtesy of NIU