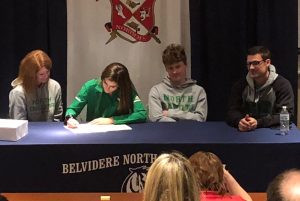 The college signing period has begun, and several area athletes have made their commitments, some in sports not common to local high school programs.
Here is a look at some of those signings:
Belvidere North's star volleyball players Peyton Sewell and  Brookelyn Messenger will be playing at Div. I programs.
Sewell signed with the University of North Dakota on Wednesday, while Messenger will sign with Air Force Academy on Friday.
Freeport's Taylor Murray signed to play softball at the University of Illinois.
At Boylan, Kiana Montalvo will be rowing at the University of Wisconsin-Madison; Brooke Parnello will play soccer at the University of Wisconsin-Milwaukee and Ashley Reyes will continue her basketball career at Saint Xavier University.
Rockford Christian will hold signing ceremonies on Friday for cross country runner Riley Wells, will head to Illinois State, and soccer player Andy Volk, who will play college ball at Cedarville (Iowa) University.