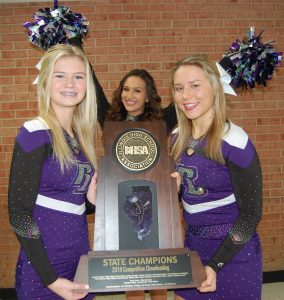 How far do you have to search to see the best in competitive cheerleading? Look no farther than north central Illinois, home to half of the reigning state champions.
Last February, Belvidere North captured its second straight Coed Team title, while Rockford Lutheran topped the Small Team division. (Joliet West was best in Large Team and Lemont led Medium Team.)
North racked up a score of 93.97 to best second-place Fox Lake Grant (91.60), while Guilford was sixth at 85.03. And Lutheran rolled to a score of 88.17 to edge Farmington (86.71), while North Boone was seventh at 81.20.
The question now is: Can they do it again?
Lutheran brings back three varsity competition team members in Liv Makeever (senior captain), Anika Fischer (senior captain) and Jourdan Brewer (sophomore flyer). Also back are Ava Fischer, Giana Caravello and Gabby Schmidt, three sophomores who traveled as alternates last season.
"We take great pride in our school and representing Rockford Lutheran and our community with grace, excellence and good sportsmanship," said Billie Makeever, the Crusaders' fourth-year head coach. "We hope to continue to represent them well as we tackle each level of competition."
North has the same lofty expectations, thanks to 14 returning varsity athletes including four who have been part of both of the last two state champions.
"We look forward to hopefully bringing home another conference, sectional and state title this year," said third-year coach Lacee Sattelberg.
In the conference races, both teams will face still challenges.
In the Big Northern, Stillman Valley has eight returning cheerleaders including Mariah Rowe, Tori Wurster, Logan Knouse, Mattie Graceffa, Juliana Halbreiter, Myah Gorzynski, Faith Chavers and Jenna Brooks.
Rockford Christian has eight returnees, including Sydney Scantlin, Reagan Reese, Lexi Santalino, Kayla Brander, Lily Prabhaker, Kristen Kokinas, Abbie Nelson and Samantha Como. It's the Royal Lions' first venture back into competitive cheer in three years.
In the NIC-10, along with Guilford and Hononegah, one of North's biggest challengers will be Harlem, which is deep in experience with 16 returning cheerleaders: Arianna Austin, Sara Brien, Reagan Cejka, Jada Cooper, Haley Cottrill, Kira Daehne, Michaela Day, Lexi Goodall, Molly Hulmes, Madison Johnson, Olivia Lewis, Riley Lewis, Cameron McCluskey, Kennedy Robison, Lizzy Thomas and MJ Wissbroecker.
Belvidere will be a very young squad with no seniors and four returnees in Andrew Hawkins, Alexis Vermies, Mariah Ceballos and Chloe Konieczki.
"We have set a goal of finishing in the top five of the NIC-10," said Bucs Coach Annette Byers, "and we believe we are in a really good position for next year as well."
— Randy Ruef, Sportsfan 1330