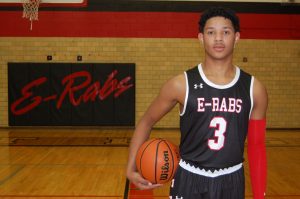 This is shaping up to be a huge season for Rockford East basketball – both individually and collectively.
Individually, senior guard Chris Burnell is chasing down one of the longest-standing records in NIC-10 sports, as he sits 182 points short of the school's all-time scoring mark, which was set by the legendary Skip Thoren in an E-Rab career that spanned 1958-1961. Thoren, who would go on to star at the University of Illinois and for three years in the ABA, graduated with 1,302 points.
As for the collective part, the E-Rabs, led by Burnell and fellow Division I recruit Sincere Parker, are strong favorites to capture the conference crown. It would be East's first since the 1980-81 season.
It starts with the 6-foot-2 Burnell, who has played varsity all four years. He gained Special Mention All-NIC-10 honors as a freshman and a junior, and averaged 12.3 points, 3.7 assists, 4.5 rebounds and 1.5 steals per game last season. He has received offers from Southern Illinois University-Carbondale, Quincy University and Winona State, and is also drawing some interest from Northern Illinois.
Parker, a 6-foot-4 junior guard, has received a scholarship offer from Long Beach State and is getting serious looks from NIU, South Florida and Florida Atlantic.
That duo, along with returning starter Shaden Clanton (6-5 senior guard), make East a heavy favorite.
"Our strength is our guard play, our athleticism and our depth," said Coach Roy Sackmaster, entering his 14th season at East. "We can get out and play fast and score. We will be at our best when we are playing fast."
Other key players for the E-Rabs will be Andres Thompson (6-3, Sr.), Damarian Dickens (5-9 Sr.), Chris Hodge (5-10, Sr.), Markarious Luster (5-10 Jr.), Josh Crawford (5-11, Jr.), Marcus Pennington (6-5, Sr.) and Delvontae LeFlore (6-4, Jr.).
Defending conference co-champ Boylan will also be batting for the crown with four starters returning off a 22-11 team (13-3 in the NIC-10). They are led by three-year varsity guard Jake Bergstrom and shot blocker extraordinaire Anthony Brown. Bergstrom (6-2, Sr.) averaged 2.8 assists, while Brown (6-4, Jr.) led the conference with two blocks per game while averaging 8.2 points.
They are joined by fellow starters John Starck (5-10, Jr.) – who averaged 8.9 points while pouring in 64 3-pointers – and Johnny Close (6-2, Jr.).
Other key players include Dayvion Foreman (5-10, Jr.), Jack Fulling (6-1, Jr.), Luke Bergstrom (6-2, Sr.), Max Kwiatkowski (6-4, Sr.), Zac Farson (6-1, Jr.) and CJ Couper (6-2, Sr.).
"We have eight players with experience from a team that won the NIC-10 and made it to the super-sectional," third-year Coach Brett McAllister said. "I'm excited for our depth and the strength of schedule, which I believe helped us immensely by the end of last season."
Guilford went young the last two seasons, grooming a corps group of boys for a bright future. That bright future could begin shining this season, as the Vikings bring back all five starters from last year's 6-10 squad (11-15 overall). It starts with 6-4 junior Jack Holmstrom, who was named Special Mention All-NIC-10 last season after averaging 10.5 points and 3.8 rebounds. He is joined by fellow returning starters Tyler Knuth (6-4, Jr.), Sam Stewart (6-4, Sr.), Le'Troy Hunter (5-7, Jr.) and Jamie Jones (6-3, Sr.)
Along with experience, size and rebounding will be a big strength of the Vikings, as Stewart was second in the NIC-10 with 7.4 rebounds per game, and Knuth added 4.5 boards.
The key will be adjusting quickly to a new system under first-year coach Antonio Maestranzi.
"We have a very dedicated, hard-working group that is heavy with guards, possesses some versatility at forward, and can attack from inside and the perimeter," he said. "The key will be our ability to apply pressure on defense and run on offense."
One of the darkhorse contenders may be Harlem. The Huskies, coming off a 6-10 season (9-20 overall) feature four returning starters, led by first-team all-NIC-10 selection David Williams. The 6-foot senior guard was third in the conference in scoring at 15.8 points and also hauled down nearly four rebounds per game. He will be joined by Treye Tucker (5-11, Sr.), Dom Renteria (5-10, Sr.) and Tre'Shaun Jones (6-7, Sr.). Tucker averaged 10.4 points and a league-high 5.1 assists, while Jones pulled down 4.3 rebounds per game.
"We return 73 percent of our scoring from last season," second-year Coach Mike Winters said. "We have the potential to be very good. Our culture has improved tremendously. The next step for us is expecting to make plays on both ends of the floor. Defensive stops will help this team get over the edge and could make for an extremely exciting season overall."
Coming off a strong season in which it tied for fourth at 11-5 in the NIC-10, Hononegah took a double hit from graduation and the transfer of Caleb Donaldson to Bloomington. Donaldson was the Indians' No. 2 scorer at 11.7 points per game, behind the graduated Kameron Kolberg.
Zach Hedrington (6-0, Sr.) is the lone returning starter. He was among the league leaders in 3s with 31. But Hononegah does have several players with varsity experience, including Nick Pierson (6-4, Sr.), Drew Grygiel (6-0, Sr.), Sam Tresemer (5-11, Sr.) and Kaden Carnes (6-7, Sr.)
As always, the Indians will be strong shooters, and should be tough on the boards with Pierson and Carnes. What Coach Mike Miller – in his 18th season at Hononegah – is most concerned about is the team's ability to hang with the quicker teams in the conference.
After finishing third at 12-4 (20-12 overall), Auburn may take a step back with no returning starters. Coach Bryan Ott, in his 20th season with the Knights, will rely on a young, relatively inexperienced squad, led by sophomore Josh Ausler (5-10).
Other key players will be Javin Davis (6-2, Jr.), Justin Blake (6-2, Sr.), Markus Burd (5-9, Sr.), Elliott Gary (6-0, Sr.), Maurice Williams (5-11, Sr.), Tyshawn Whitt (5-10, Sr.), Haniefe Johnson (5-7, Jr.), Robert Chaney (5-11, Fr.) and Corzanos Maxwell (5-7, Jr.).
"As usual, we will seek to dictate tempo with our defensive pressure, hopefully generating offense from defense," Ott said. "We have good quickness, toughness and team chemistry, but we lack height and depth."
Todd Brannan had a very successful season with Jefferson last year, leading the J-Hawks to the co-championship with Boylan. But he stepped down from that spot and landed at Belvidere North, where he takes over a  team that went 3-13 (6-23 overall) and includes his son Caden.
The Blue Thunder boast three returning starters in Holden Paddock (6-1, Jr.), Zach Reidenbach (5-10, Jr.) and John Carlson (6-5, Jr.). Carlson averaged 11.9 points and 5.5 rebounds, Reidenbach dished out 3.2 assists, and Paddock sank 30 3-pointers.
"We have experience, yet we are still very young," said Brannan, who listed 12 juniors among his top 13 players. "Half our kids played football, and we expect those kids to bring that winning culture to our basketball program. We will play a lot of kids."
The team that Brannan left – Jefferson – will have a very new look after losing three first-team all-NIC-10 players from their 13-3 squad (26-7 overall). And that new look starts at the top with first-year coach John Rossato.
Jefferson's lone returning starter is George Williams (5-8, Jr.), who didn't start until roughly two-thirds of the way through last season. Among the other key players for the J-Hawks are Latrell Graham (6-1, So.), De'Ario Newble (5-8, Jr.), Antonio Henigan (6-0, Sr.), Lajuan Morris (6-3, Jr.), Jaquavion Robinson (5-10, Jr.), Demarian Jordan (6-3, Sr.), Mike Bankole (6-1, Jr.) and Ivory Smith (5-10, Jr.,)
"I'm expecting to have some growing pains," Rossato said. "That being said, I know we can compete on a nightly basis with the top teams. It's a tough-nosed group of kids with good speed and team chemistry."
The Belvidere Bucs look to climb from the lower part of the NIC-10 under a new regime, as Brian Koehne takes over the program after a 3-13 season (6-24). He'll do it with one fulltime starter back in senior Zach Tobler, and two parttime starters in Adrion Dalipi and Steven King.
"We will be entering the first year of a new system, so there will be a big learning curve," said Koehne, who has 16 years of coaching experience including the head coaching job at Wilmington High School and two years as an assistant at the University of St. Francis in Joliet. "We will lean on our seniors to be leaders and build off of their experiences from last year's varsity. We look to be competitive in the NIC-10 and hope to finish in the middle of the pack."
It was a rough season for Freeport last year, finishing last in the NIC-10 at 2-14 (5-22 overall). And it won't get any easier with only one player with regular starting experience back in Kijuan Burns.
Coach Ryan Pierce said Burns, who averaged 9.4 points and 4.1 rebounds, will join junior guard Deron Lacey as the leaders of an inexperienced squad.
"We will rely on quality of depth," Pierce said. "Without a lineup full of 'go-to' players, we will have to outwork our opponents with our entire roster. We have good senior leadership with a balance of juniors that will provide the coaching staff with a variety of options on the floor."
— Randy Ruef, Sportsfan 1330