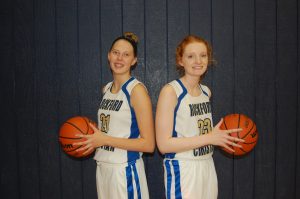 Ask the Big Northern Conference girls basketball coaches to name a favorite for 2018-19, Winnebago is at the top of nearly all of the responses.
"Winnebago has two young freshmen that will join a very good group," Byron Coach Eric Yerly said. "They will be the team to beat and could make a deep postseason run."
But 30-year coach Judy Weber-Krause is a little more guarded when assessing her Indians.
"We will have some growing pains to start," said Weber-Krause, whose team went 4-6 last season (16-14 overall). "We look for improvement as the season progresses. Hopefully we will be in the (BNC) mix."
For 'Bago, it starts with Alyssa Thompson (5-6, Sr.). The second-team all-BNC selection averaged 8.9 points, 4.8 rebounds, 3.2 assists and 2.2 steals. She, along with fellow returning starter Avery Williams (5-8, Sr.), will lead a strong group that includes Hailey Gomon (5-7. Sr). Drew Penzenski (5-10, Sr.), Kyla Johnson (5-7, Jr.), Rachel Rittmeyer (5-9, Jr.) and freshmen Miyah Brown (5-10) and Renee Rittmeyer (5-9).
Coming off a 6-4 finish (13-15 overall), Rock Falls looks to make the big leap to contender behind four returning starters, including three who reached all-BNC status.
Molly Buck (5-8, Sr.) was a first-teamer, Elise Moeller (5-11, Jr.) was second team and Abi Peyton (5-8, So.) was honorable mention. They are joined by fellow starter MacKenzie Olsen (5-11, Sr.) to form a formidable, experienced lineup. Buck averaged 14.0 points, Moeller knocked in 11 per game and Peyton was at 10.
"We have a good mixture of speed with some height," said fifth-year Coach Eric Wolf. "I think with all that, we should be very competitive this season."
Just like Rock Falls, Dixon boasts four returning starters with three of them garnering postseason honors. Kira Goral (5-10, Sr.) and Zoe Carr (5-11, Sr.) were both all-BNC selections, while Caylyn Kimmel (5-6, So.) was honorable mention. Emily Lynch (5-6, Sr.) rounds out the talented returning corps. Goral, Carr and Kimmel averaged 7.5, 7.1 and 7.0 points respectively last season.
"We can score multiple ways and have threats on the interior and from the outside," eighth-year Coach Luke Ravlin said. "I'm looking forward to seeing some of our young players stepping forward into new roles."
After a year of domination in which it went 10-0 in the BNC (19-10 overall), defending champ Byron may take a step back with only one starter returning. Senior forward Ralee Corkran will be counted on to lead the Tigers, and senior guard Kendra Jackson will be among the key newcomers.
"We will have four underclassmen playing big minutes this year," Yerly said. "We will be very balanced and deep and could see a pretty big rotation of kids competing for time, which will make us better."
Stillman Valley as the unusual combination of being both young and experienced. With four starters back from last season's 4-6 squad (9-19 overall), fifth-year coach Bobby Mellon has a solid corps to build around. But those four starters are made up of three sophomores and a junior.
Georgia Ballard (5-6), Faith Fowler (5-10) and Lexi Lichty (5-7) are the sophomores, joined by junior Kayla Boyd (5-10). Ballard averaged 12.7 points last season, with 6.6 rebounds and 3.4 assists. Other key players for the Cardinals will be Alysa Morrison (5-4, Jr.) and Payton Barger (5-6, So.)
"At times our youth will show this season," Mellon said, "however not for long. These players have played many minutes together over the years and this will become a strength."
Lutheran, which finished third at 8-2 last season (22-9 overall) took a big hit with the graduation of Madison Davis and the transfer of Ambranette Storr to Kankakee. They combined for an average of 35 points per game.
What 16-year Coach Joni Carlson does have back are fulltime starters Olivia Warneke (5-5, Jr.) and Lauren Spangler (5-8, So.), and parttime starters Alyssa Guse (5-10, Sr.) and Katie Wilhelmi (5-11, Jr.).
"We have some nice guards who can really handle the ball," Carlson said. "But we lack experience, height, depth and scoring options. We'll have to rely on defense to compete in games this season."
The Mendota Trojans are another experienced team, bringing back the entire starting lineup from a group that went 5-5 in the BNC (16-12overall). Leading the way is Amellia Bromenschenkel (5-9, So.), who averaged 13.9 points, 9.3 rebounds and 3.2 steals as a freshman. Also back are Alex Barrera (5-7, Sr.), Larkin O'Donnell (5-6, Sr.), Phalen Hessenberger (5-8, Sr.) and Abby Phalen (5-10, Sr.).
Second-year Coach John Hansen likes the team's speed and athleticism, which the Trojans will have to utilize to overcome their lack of size.
Genoa-Kingston graduated top player Taylor Gilbert, but Lily McPherson, who was among the best 3-point shooters in the area last year with 60, hopes to move the Cogs into the upper half of the BNC after finishing 5-5 (15-11 overall).
There's nowhere to go but up for Rockford Christian, and first-year Coach Chris Bork is ready to lead them. Bork steps into a good situation, with five starters back from last year's 0-10 (3-14 overall) team.
It starts with Noelle Lavery (6-0, Jr.) – who averaged 12.8 points, 5.6 rebounds, 2.3 assists and 2.1 steals – and Becca Theisen (5-11, Sr.) – who scored 7.2 points, with 6.1 rebounds and 2.2 assists. Other returning starters are Kaitlyn Monkemeyer (5-5, Jr.), Madison Smith (6-0, So.) and Maddie Hougan (5-9, Jr.).
"We are young, but we will work hard," Bork said. "We will be very competitive this season."
A familiar face will be leading Oregon, as Wendy Lambrigtsen returns as head coach after serving that role with the Hawks from 1995-98. She'll try to get an inexperienced team to improve on a 3-7 mark last season (11-17 overall).
Olivia Lambrigtsen (5-9, Jr.), who averaged 2.0 assists last season, is the lone returning starter. She will be joined by key newcomers Lauren Montavon (5-9, Jr.), Breanna DeHaan (5-9, Jr.) and Jenae Bothe (5-9, Fr.).
"We will be led by a small senior class," Coach Lambrigtsen said. "But they are complimented by a very committed junior class. We'll run the floor and make defense our priority."
North Boone may face a tough climb. The Vikings went 1-9 in the BNC (7-20 overall) and graduated six seniors. Anna McMillan (5-9, Sr.) and Simarra Endecott (5-4, Sr.) are the two returning starters, backed by key newcomers Alexis Belvedere (5-6, Jr.) and Lauren Osterberg (5-9, Jr.). McMillan averaged 10.1 points, 6.3 rebounds and 1.4 blocks.
"We are looking for our junior class to step up and play big minutes," seventh-year coach Kirstin Johns said.
— Randy Ruef, Sportsfan 1330