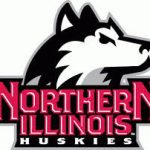 Northern Illinois University will embark on a national search for a successor to head football coach Rod Carey, who on Friday was announced as the new head coach at Temple University, NIU Associate Vice-President and Director of Athletics Sean T. Frazier said.
"Rod has been a part of the Huskie program – as an assistant coach from 2010-12 and as head coach for the past six seasons – during the most successful era in NIU's FBS history," Frazier said.  "He has worked tirelessly to elevate NIU Football and Northern Illinois University, while making an impact on hundreds of student-athletes. Under Rod's leadership, the Huskies have been successful on the field, in the classroom and in the community. I want to thank Rod, [his wife] Tonya, [daughter] Kennedi and [son] Charlie for their dedication to NIU, and wish them nothing but the best going forward."
NIU's national search for the Huskies' next head coach is already underway with the assistance of an executive search firm, according to Frazier, who said he will not have any further update on the search until its conclusion.
"As one of the most successful FBS programs in the country, we've had significant interest in leading our football program," Frazier said. "We will put tireless effort into finding the next head coach, with the expectation to continue our championship tradition at NIU."
The 2018 Huskies won the program's fifth MAC Championship with a 30-29 victory over Buffalo, and made NIU's 10th bowl appearance in the last 11 seasons, a record of consistency matched by just one other "Group of Five" team.  NIU returns 15 starters for 2019, including seven on both offense and defense. The Huskies open the 2019 season at home versus Illinois State on August 31, 2019.
— NIU Press Release