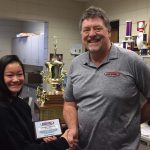 This week's Sportsfan 1330 Student/Athlete of the Week Award goes to Harlem junior dancer Chloe Broshous.
This award honors those athletes who are as big – if not bigger – successes off the court or field. We're looking for young men and women who excel in the classroom, in their schools and in their community. Chloe fits that description perfectly.
She was first-team all-conference in her freshman and sophomore seasons and was chosen at the Maine East IDTA contest as a Rising Star dancer, an honor she received among hundreds of other dancers.
But Chloe is just as much a success off the dance floor as she is on it. She maintains a 4.42 grade point average, which of course makes her a member of the National Honor Society. She is also a member of the Harlem Student Council and has volunteered with Special Olympics.
Congratulations Chloe from Sportsfan 1330 and our sponsor, Forest City Dental.
And if you know of an athlete who deserves this award, click here and fill out a nomination form.