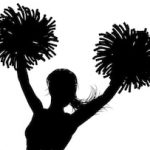 After a snowy and cold week that shut down most of the high school sports across the state line, teams are back in action Friday and this weekend. And leading the way is a couple of area cheerleading squads looking to repeat as state champs.
One hundred teams will converge on Grossinger Motors Arena in Bloomington Friday and Saturday for the IHSA Competitive Cheerleading State Finals. They will be competing in four divisions: Small Team, Medium Team, Large Team and Co-ed.
Among those 100 teams is Rockford Lutheran, looking for its second straight Small Team crown, and Belvidere North, chasing its third straight title.
Lutheran will perform at 12:55 p.m. Friday. The Crusaders won the title last year with a score of 88.17, and they come into this weekend's action having finished second to Johnsburg at last week's Grayslake North Sectional with a score of 83.37.
The North Blue Thunder perform at 5:05 p.m. on Friday. They placed second at state in 2016 before grabbing the top prize in each of the last two years. North won the Co-ed division at Grayslake North last week with a score of 94.53.
Also heading to state is Harlem, which became the first NIC-10 school to win the Large School sectional crown with a score of 90.53 at Grayslake North. The Huskies perform at 5:55 on Friday. They are joined by Guilford, which placed fifth in that same bracket at 87.47.  The Vikings perform at 4:20 p.m.
Fellow NIC-10 team Boylan will be competing in the Medium Team division after placing fourth with a score of 87.11 last week, and the North Boone Vikings and Byron Tigers are also chasing a state title in the Small Team bracket. North Boone placed fourth at sectionals  with a score of 80.91, while fellow Big Northern team Byron was right behind at 79.80.
Boylan performs Friday at 9:15 a.m., with North Boone at 10 a.m. and Byron at 10:40 a.m.
The top 10 from each of the four categories will advance to Saturday's finals
WRESTLING
Area NIC-10 and Big Northern wrestlers will be in regional action on Saturday.
In Class 1A, North Boone, Lutheran, Stillman Valley and Winnebago will compete in the Genoa-Kingston Regional while Byron and Oregon will be at the West Carroll Regional.
In Class 2A, Dixon will host nine schools in its own Dixon Regional, while Freeport and Boylan will be at the Rochelle Regional.
And in Class 3A, Harlem, Auburn, Guilford, Jefferson, Hononegah and the Belvidere Co-op will be at the East Regional.
Among the area wrestlers ranked in the state by Illinois Matmen heading into the post season are:
1A: Oregon's Andrew Herbst (No. 2 at 106 pounds), Jacob Milliman (No. 2 at 113), Noah Paul (Honorable Mention at 132), and Chase Clark (No. 6 at 145); Stillman Valley's Logan Langerhausen (Honorable Mention at 145); Winnebago's Bryce Faworski (No. 5 at 152); and Byron's Colton Ingram (No. 4 at 195), Peyton Lind (No. 6 at 220) and Tyler Elsbury (No. 5 at 285).
2A: Dixon's Sebastian Quintana (No. 5 at 160) and Clint Schelien (Honorable Mention at 182); and Freeport's Major Dedmond (No. 2 at 170) and Matthew Chavers (No. 6 at 182).
3A: Hononegah's Giovanni Cassioppi (Honorable Mention at 138); Harlem's Chad Richards (Honorable Mention at 160); and East's Aydin Guttridge (No. 3 at 285).
BASKETBALL
The rematch for NIC-10 girls supremacy is Tuesday, as Hononegah looks to avenge it's lone conference loss when it hosts Boylan in a game that will be broadcast by SportsfanRadio 1330. The Titans topped the Indians 66-59 on Jan. 10 to give them sole possession of first place. They've held it ever since.
Now the two face off with Boylan sitting 13-0 (23-1 overall) and Hononegah at 12-1 (22-4).
In boys action, East would clinch a share of the NIC-10 boys title with a home win over North on Friday, as they sit 13-0 with Harlem and Boylan tied for second at 8-4, four games back. It would be the E-Rabs first conference title since they went 16-0 in 1981.