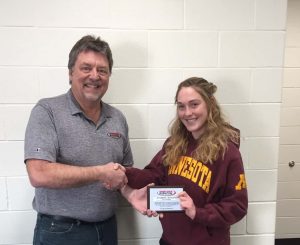 While the weather may have delayed several events this week, it hasn't kept Sportsfan 1330 from presenting its Student/Athlete of the Week Award, brought to you by Forest City Dental.
This award honors those athletes who make major contributions in the classroom, their schools and their communities. And this week's winner is Guiford junior Dori Russo, a multi-sport athlete for the Vikings, participating in soccer, basketball and tennis.
And while playing three sports would enough for most people, it's not so for Dori. She takes part in the Science Olympiad, is a 4-H Camp Counselor a member of the Quiz Bowl team and she is currently taking classes at Rock Valley College along with her high school classes.
To see Dori's presentation video, click here.
To nominate a future Student/Athlete of the Week, click here.