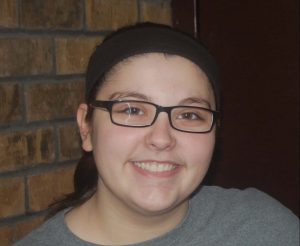 It was a weekend of champions in the Rock River Valley, as Harlem senior Becca Hagerman repeated as the No. 1 bowler in the state, while a pair of NIC-10 wrestlers garnered gold.
Hagerman averaged 222.5 over 12 games at Cherry Bowl to tally 2,670 pins and win the state individual bowling title for the second year in a row. Lauren Tomaszewski of O'Fallon was second at 2,552.
Sophomore Caitlyn Bannister of Auburn rallied in the final game with a 215 to jump from fifth to third with a two-day total of 2,532, one pin ahead of fourth place.
Hagerman's Huskies teammates also shined over the weekend, but they fell just short of collecting their third straight team title. Harlem tallied 12,024 pins to finish 98 behind O'Fallon, which won its first state title in any sport in school history.
Rounding out the Harlem bowlers behind Hagerman were senior Kayla Berstraete (14th overall at 2,452), sophomore Olivia Watton (37th at 2,340), senior Angel Grinnall (52nd at 2,294), junior Laura Bartelt, junior Amanda Bohn, sophomore Joana Araojo and freshman Paige Carpenter.
Senior Carrie Minnier of Guilford placed 35th individually (2,350), while East senior Tegan Peterson was 53rd (2,291).
WRESTLING
East senior Aydin Guttridge is the state's heavyweight champion in Class 3A after defeating Justin Hull of St. Charles 3-1 in the title match at Saturday's state championships in Champaign.
And Freeport's Major Dedmond capped a 35-1 season with the 170-pound title in Class 2A with a 1-0 victory over Alex Cramer of Grayslake Central, the No. 5-ranked wrestler in the nation.
Among the other area wrestlers who fared well at state: Hononegah's Giovanni Cassioppi placed 5th in  3A at 145 pounds, and Oregon's Jacob Milliman (113 pounds), Noah Paul (132) and Chase Clark (152) each placed third in Class 1A. Fellow Hawk Andrew Herbst was fourth at 106 and Winnebago's Bryce Faworski was fifth at 145 in Class 1A.
SWIMMING
Behind the strength of three advancing individuals and one advancing relay, Hononegah captured the Jefferson Sectional title with 229 points. Belvidere North was third (151), Boylan was fourth (144) and Byron was fifth (137).
Senior Daniel Rebban won the diving competition with a score of 348.40, while Camden Leonard was second in the 50 freestyle (21.76) and second in the 100 freestyle (46.89). Leonard also was part of the Indians' advancing 200 freestyle relay team along with Zain Miles, Jacob McCabe and Lucas Hale. They finished in a dead-heat tie with Belvidere North's quartet of Devin Green, Daniel Golonka, Oryi Tucker and Daryl Kay with a time of 1:29.43.
Also advancing to state was North's Devin Green in the 200 freestyle (1:44.42), Byron's Carson Faley in the 500 freestyle (4:53.78) and Guilford's Treighton Hoang in the 100 breaststroke (1:00.93).
And Rockford Christian's Cameron Poole moved on in three events in the Athletes With Disabilities category, winning the 200 freestyle (3:00.31), 50 freestyle (38.22) and 100 freestyle (1:24.91).