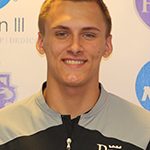 Rockford University junior Zack Jones, a Harlem gradutate, was named the Northern Athletics Collegiate Conference Pitcher of the Year, highlighting Rockford's two all-conference selections. Jones was also voted First Team All-NACC along with senior second baseman Hunter Fiorito of Batavia.
This marks the first time since the 2013 season that Rockford has had two First Team All-NACC selections. Additionally, Jones becomes the first RU baseball player to ever be selected as the NACC Pitcher of the Year since the introduction of the award following the 2008 season.
Jones allowed one earned run or fewer in five of his eight starts and struck out at least 10 batters on five different occasions. The right-hander finished the season at or near the top of the Northern Athletics Collegiate Conference in every pitching category.
He led the NACC in earned run average (1.68), strikeouts (85), WHIP (0.87), hits allowed per nine innings (5.32) and was tied for the conference lead in complete games (4). He also finished fourth in strikeouts per nine innings (11.93), fifth in innings pitched (64.1) and tied for eighth in wins (5). Opponents hit just .167 against him, which is the lowest for any Regent pitcher with at least four starts since the creation of the NACC.
Nationally, Jones ranks among the best in all of NCAA Division III in five different categories. At the conclusion of the regular season, Jones is 12th in the country in WHIP, 13th in hits allowed per nine innings, 19th in strikeouts and 28th in earned run average.
Fiorito did an excellent job at the top of the order setting the table for the Rockford offense. He finished the season fifth in the NACC in batting average (.389) and tied for sixth in stolen bases (21). He also led the Regents in runs scored (32), hits (56), on-base percentage (.425) and slugging percentage (.500) and finished tied for the team lead in doubles (9) and triples (2). Fiorito proved to be a tremendous asset defensively as well, starting games at four different positions (second base, shortstop, third base and designated hitter).