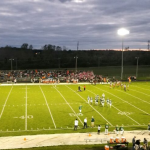 Boylan 21-13 Harlem
We expected a lot of scoring in this match-up but we ended up getting a defensive battle. Last year Boylan made a couple big plays late in the game to pull away from Harlem with a 24-21 victory on the road. It was the same story this year.
After a couple calls that went in the Titans' favor late in the game, Boylan escaped past Harlem in front of their home crowd on homecoming night!
East 26, Guilford 24: A Nail-Biter at Swanson Stadium 
The big story of this game was E-Rab's star RB Tay'veon Lake returning to game action on Friday night after he was suspended last week vs Harlem. Lake currently leads the conference in rushing yards and yards per attempt. Over the past couple seasons, Guilford and East have had some great battles.  This year was no different, as this game went all the way down to the wire. As time was expiring, the Vikings scored one last touchdown and was able to convert the two-point conversation as East barely escaped past their rival, Guilford, over at Swanson Stadium.
Belvidere North 28-14 Hononegah 
Belvidere North is the real deal.
They picked up another huge win at home.  This time, it was over conference powerhouse Hononegah.  The Indians came in to Friday's game 11-1 all-time vs North which included a 30-14 victory over the Blue Thunder last season. So far this year, Belvidere North has scored the 2nd most points in the conference with 209, but their defense has been more impressive to me. Belvidere North's defense has allowed a total of 63 points which is the second best in the conference, only trailing Boylan at 60.
Auburn 30-6 Belvidere
The Bucs were hungry for a road win on Friday night as they stuck with Auburn for the majority of the game. The Knights made some much-needed halftime adjustments and pulled away from Belvidere in the second half. After a disappointing 2018 season, Auburn is now 4-2.  They are tied for 3rd place in the NIC-10 with Hononegah and Harlem.
Freeport 40-0 Jefferson
Freeport jumped out to a early 10-0 lead and never looked back, as the Pretzels's defense went on to pitch a shutout for the 2nd straight week. Jefferson's defense continues to struggle, as they have now allowed 218 points through 6 weeks (7th in the NIC-10).
-Jordan