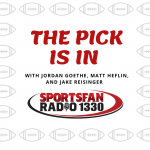 The 2020 NFL Draft is officially 4 days away and we got you covered! This year will be unique in a lot of different ways but one thing will stay the same and that's SportsFan Radio 1330 as we will help get you ready for Thursday night where the NFL Draft will kickoff IN… Roger Goodell's Basement!!
Before the COVID-19 pandemic swept across the entire world we started a brand-new weekend show on 1330AM that unfortunately lasted just a couple of weeks before we had to postpone our show "The Pick Is In". Our show consisted of 3 football fanatics Matt Heflin, Jake Reisinger and myself Jordan Goethe. On our show we did discuss a lot about how great this receiving group is and could end up being the best wide reciever draft class of all-time.
With that being said Matt decided to sit down and give us an in-depth look into this WR Draft Class, enjoy and let us know what you think in the comments below!
2020 WR Draft Class Rankings
1. Cedee Lamb- Oklahoma
– Dominant force all over the field
– Displays all the attributes of a superstar NFL WR
– No weak points in his game
– Physical, optimal but not crazy speed, crisp routes, and rock solid release off LOS
– Top 10 talent
2. Jerry Jeudy- Alabama
– Is really the 1B instead of #2 in this draft for WR
– Next Alabama WR to come in from a successful system
– Best routes in draft as is to be expected from Alabama WRs
– Both a deep threat and a YAC(Yards After Catch) master, can fit in any offense although physicality on
contested catches is lacking
– Top 15 talent
3. Justin Jefferson- LSU
– Massive production junior year but was nonexistent as a freshman and was average to
below average as a sophomore
– Aggressively attacks every ball coming his way, won't let a DB get positioning on him
– Was the workhorse WR for LSU getting 111 receptions
– Isn't a phenomenal route runner but easily can re-adjust route after diagnosing zone
coverages
– Top 25 talent
4. Henry Ruggs III- Alabama
– 3rd most talented WR at Alabama but that's not a knock by any means
– Ruggs is an extremely fast player but that's no secret
– Typical downside to speed WRs is drop issues but Ruggs hands are arguably the most
reliable this draft.
– Crafty at the LOS using foot quickness to get good initial release
– Top 25 talent
5. Tee Higgins- Clemson
– Next Clemson WR to come in from a successful college system
– Unimpressive vertical and pro day 40 yard dash have him falling down boards but the
production cannot be ignored (Higgins had 2,103 yards and 25 TDS in his last two
seasons)
– Great body control and muscle to get and keep positioning on opposing DBs
– Route tree needs to expand but will fill in solidly as an X WR in the NFL
– 1st Round Talent
6. Denzel Mims- Baylor
– Ideal frame combined with great athleticism project him to be a scary weapon for a team
that likes to attack downfield
– A relative unknown until after combine now his draft stock has skyrocketed
– Solid sophomore year combined with standout statistical season in his junior year show
production isn't an issue
– You'd be hard pressed to find a DB who can handle him at the LOS, his release is top tier
– 2nd Round Talent
7. Jalen Raegor- TCU
– Combine gave mixed reviews about Raegor, 40 yard dash wasn't bad but he could've
done better and vertical was good but his biggest issue will be learning how to deal with
media, has potential to be problematic in locker room
– Overall versatile weapon that can attack downfield, take short passes and get the YAC,
and is one of the better returners this draft
– Didn't have massive production at TCU but that's because of TCU's run first offense
(team averaged more rushing yards then passing yards per game)
– Draft stock has fluctuated rapidly for Raegor this offseason from being potential top 25
pick to now late 2nd early 3rd
– 2nd round talent
8. Brandon Aiyuk- ASU
– Has potential to be 2nd ASU WR taken in first round of the draft under Herm Edwards
system
– Twitchy route runner with a complete route tree which is hard to come by for rookie WRs
– Started his career in JUCO but worked up to ASU and made the most of his opportunity
– Great kick returner averaging over 31 yards per kick return in 2019
– 2nd round talent
9. Laviska Shennault- Colorado
– Absolute athlete with great versatility (played both outside and slot WR also took snaps
at RB and wildcat QB not to mention he's a decent returner, versatility through his
athleticism is his biggest strength
– Arguably the worst offseason amongst 2020 draft prospects (decided against having
surgery for his core muscles then re-injured himself at combine after running subpar 40
yard dash then afterwards had the surgery that could put him out past training camp)
– He plays his best game after the catch, great vision for a WR
– Injuries will be his biggest downfall for his career if they continue to be a problem
– 3rd round talent
10. Michael Pittman JR- USC
– Exceptional hands and catch radius, rarely any drops and can snatch the ball from
anywhere in his reach
– Surprisingly nimble after the catch, father was a former RB, vision runs in the family
– Only WR this draft that is notable for drawing DPI calls
– Route running is hit or miss. posts, corners, crosses he runs well while curls, comebacks,
and hitch's are lackluster
– 3rd round talent
11. KJ Hamler- Penn State
– Known mostly for his speed but is a shifty route runner
– Fools defenders easily on two step breaks and delays
– Needs to work on catching technique, catches with his body more often than teams would
like
– Being a shorter and skinnier guy it makes it harder for him to block, do not ask him to
block LBs or safeties it will not end well.
– 3rd round talent
12. Chase Claypool- Notre Dame
– Has ability to make insane catches possible, biggest strength is with his catch radius on
sideline throws
– Very experienced, has played in 45 career games but only had notable production during
senior year
– Average route runner and game speed is slower than what his 40 yard dash showed (ran a
4.42)
– Exceptional blocker because of his size can bully a CB into the turf
– 3rd round talent
13. Bryan Edwards- South Carolina
– Lacking in athleticism on all fronts (speed, strength, burst, & agility) compared to other
prospects
– Rarely loses a contested catch battle, he high points the ball better than most
– Has a modest route tree but tears up DBs in the middle of the field
– Has a tendency to catch with his body not his hands on short throws but has surprisingly
good YAC ability for his size (6'3 215lbs)
– 3rd round talent
14. Antonio Gandy Golden- Liberty
– Small school WR who dominated his two years at Liberty (only played as a junior and
senior) averaging 1,200 yards and 10 TDS both years
– Best one handed catch ability in the draft and personally I don't think it's close
– High points the ball exceptionally well but often lets passes get away from him and his
hands clap instead of catching the ball
– When balls were poorly thrown or play broke down he was able to readjust his route and
track the ball very well
– 3rd round talent
15. Donovan People's-Jones- Michigan
– Small amounts of production in college due to bad QB play but has shown spurts of great
talent
– Exceptional after the catch and return ability, has a full field of vision when the balls in
his hands
– Biggest troubles are on the LOS where he can consistently get pressed by CBs, he often
was put in the slot to try and give free releases. He needs to work on hand battle
techniques if he wants to find success in the NFL
– Has the athletic ability, ideal frame, and solid routes/catching that teams look for in a
NFL caliber WR
– 4th round talent
16. Van Jefferson- Florida
– Polished his route running ability to almost perfection after transferring from Ole Miss
– Older prospect, he will enter the NFL at age 24
– His athleticism is weaker compared to the rest of the class and likely won't get better
throughout his career
– Ceiling is low but potential to be day one starter at the X spot is high even though he's
mocked as a day 3 pick
– 4th round talent
17. Tyler Johnson- Minnesota
– Progressively got better every year at Minnesota with superb junior and senior seasons
– Very technical with his routes always finding new ways to make his breaks depending on
matchup
– Doesn't have top end speed but has good initial burst off the line handles short passes to
intermediate passes like a pro
– His field of vision is solid but his abilities after the catch are lacking, will likely be a slot
possession type WR in nfl
– 4th round talent
18. Gabriel Davis- UCF
– Posted numbers at the combine that were expected of him, nothing shockingly bad and
nothing shockingly good
– Isn't a fast WR but is consistently able to breakaway from coverages especially down
field along the sideline
– Lack of fluent hip movement and efficient breakdowns make it hard to get separation on
routes mostly eats away at holes in zone coverages
– Ability to break tackles is what makes him stand out the most, plenty of plays where he
would get extra yards on a pass after breaking the first tackle
– 5th round talent
19. Quintez Cephus- Wisconsin
– Excellent physicality, consistently wins hand battles even against experienced CBs
– Got notable props from top DB in draft Jeff Okudah as his "toughest matchup"
– Production was very limited due to Wisconsin's run heavy play style and lackluster QB
play
– Had a sexual assault charge in 2018 that he was acquitted in. The situation involved two
girls who said they were "too drunk to consent" so hopefully he avoids situations like that
moving forward
– 5th round talent
20. Devin Duvernay- Texas
– Workhorse WR who broke out his senior year being 3rd in the FBS in receptions and 5th
in receiving yards
– Clean first cut on routes then is able to burst off cut to get immediate separation
– Would be perfect Z WR in a west coast offense, excels at being the 3rd down target
– Has a bad tendency to round routes when attacking the middle of the field due to him just
trying to outrun the defender covering him (may trust his speed too much)
– 5th round talent
21. James Proche- SMU
– #1 target for SMU's pass heavy attack (totaled 120 receptions which was the most in
FBS)
– Catching, catching, catching, this man can consistently catch everything thrown his way
no problem
– Was a 5th year senior and will be 24 years old when he enters the league
– Is mainly just a set of reliable hands, routes are unimpressive and initial release at the
LOS is lacking
– 5th round talent
22. KJ Hill- Ohio State
– Has his best moments in off coverage, very shifty when running routes and makes
defenders miss with a nice stutter step
– Is the true definition of quicker than fast, top speed is weak but is consistently quick on
all routes
– One hand catching ability is notably strong
– Is a very tenacious run blocker always finishes the play for his RBs
– 6th round talent
23. John Hightower- Boise State
– Minimal production in college but showed enough flashes for teams to see his potential
– Surprisingly high speed and is a big enough threat to draw double coverages down the
field
– He NEEDS to work on his catching he let way too many balls go through his hands, these
drops could potentially make him fall to 7th round
– Yards after contact is weak but yards after catch his good, he can make people miss but
once he's wrapped up consider him done
– 6th round talent
24. Collin Johnson- Texas
– Big WR who can manhandle corners on contested catches
– Not crazy athletic but is better than most for his size
– Needs to get better at winning hand battles at the LOS, too often gets held up by DBs 5+
inches shorter than him
– Is a natural route runner, doesn't make amazing cuts to get separation but is very
respectable in this aspect
– 6th round talent
25. Lynn Bowden Jr- Kentucky
– Very versatile player who was used to run, catch, and throw the ball. Also was a pretty
good returner
– Route tree is very unpolished due to offensive scheming, he was normally only used for
Posts, Verticals, and Screens
– Can make human joystick like cuts but lets his ability get the better of him sometimes and
end up losing yards on the play
– Will best be used as a gadget type player in nfl not putting up massive numbers but has
big play ability written in his DNA
– 6th round talent
26. Omar Bayless- Arkansas State
– Absolutely massive production his senior year being top 5 in every category
– Doesn't have top end speed and lack of agility on short routes hurts his chances of getting
separation
– Works best against man coverage especially in red zone
– Gets manhandled on the line against average press corners
– 7th round talent
27. Marquez Callaway- Tennessee
– 3 year starter at Tennessee but very underwhelming production, best year was senior year
with 635 yards and 6 TDs)
– One of the drafts faster WRs, his speed is the biggest strength to his game
– He is active during hand battles on the LOS but loses more often than he wins
– Route running is unrefined but could polish his abilities in the NFL. Definitely a low risk
low reward player
– 7th round talent
28. Aaron Fuller- Washington
– Frustrating hands, can make crazy one handed catches but then can drop wide open seam
passes the very next play
– Shockingly good separation ability on routes, has the ability to suddenly jerk his body in
one direction then turn in the opposite direction to make the defender lose track of where
he's at
– Has modest ability as a YAC WR and vertical WR but will be best used as a 3rd and
short target
– Horrible blocker, hard to tell if it's lack of effort or lack of knowledge but don't expect
much in this department
– 7th round talent
29. Isaiah Hodgins- Oregon State
– Can track the ball in air with ease, never loses track of where it is
– Does not have enough burst off the line of quickness in cuts to create separation, very
easy for a man coverage DB to stay by his side
– Is able to find holes in zones during his routes and makes easy completions for his QB
– Do not expect any YAC, he has no moves to get extra yards once he gets wrapped up
he's going down on the spot
– 7th round talent
30. Jauan Jennings- Tennessee
– Posted modest numbers in his 5 years playing at Tennessee, is top 10 in every career
receiving category
– Man breaks tackles like it's nothing, on 59 catches in 2019 he broke 29 tackles!
– Is not a good athlete by any means, runs slow, agility is his weakest point, and he doesn't
have a burst off cuts to create major separation
– Plays strong and fights for every ball thrown his way, optimally would be used as a red