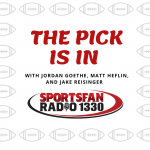 The 2020 NFL Draft is officially over and now its time to hand out some grades! I will do a more in-depth look into the 2020 Chicago Bears and Green Bay Packers draft classes later on in another article so look out for that. Let us know what you think of your team's grade down below!
Arizona Cardinals: B
Best Pick: 3rd Round OT Josh Jones Houston
Worst Pick: None
Atlanta Falcons: B
Best Pick: 3rd Round OL Matt Hennessey Temple
Worst Pick: 4th Round S Jaylinn Hawkins California
Baltimore Ravens: A+
Best Pick: 1st Round LB Patrick Queen LSU
Worst Pick: None
Buffalo Bills: B+
Best Pick: Edge 2nd Round AJ Epenesa Iowa
Worst Pick: 6th Round QB Jake Fromm Georgia
Carolina Panthers: A-
Best Pick: 2nd Round S Jeremy Chinn Southern Illinois & Edge Yetur Gross-Matos Penn State
Worst Pick: Not taking a single offensive player?
Chicago Bears: B- *More in depth on the Bears later on
Best Pick: 2nd Round CB Jaylon Johnson Utah
Worst Pick: 2 Offensive Linemen late in Round 7
Cincinnati Bengals: A-
Best Pick: 1st Round QB Joe Burrow LSU
Worst Pick: None
Cleveland Browns: A
Best Pick: 1st Round OT Jedrick Wills Alabama
Worst Pick: None
Dallas Cowboys: A+
Best Pick: 3rd Round DT Neville Gallimore Oklahoma & 4th Round OL Tyler Biadaz Wisconsin
Worst Pick: 7th Round QB Ben DiNucci James Madison
Denver Broncos: A
Best Pick: 3rd Round OL Lloyd Cushenberry LSU
Worst Pick: 7th Round WR Tyrie Cleveland Florida
Detroit Lions: B+
Best Pick: 1st CB Jeffrey Okudah Ohio State
Worst Pick: 5th Round Jason Huntley New Mexico State
Green Bay Packers: C– *More in-depth on the Packers later on
Best Pick: 6th Round OL Jake Hanson Oregon
Worst Pick: Day One & Day Two
Houston Texans: C
Best Pick: 2nd Round DT Ross Blacklock TCU
Worst Pick: 5th Round WR Isaiah Coulter Rhode Island
Indianapolis Colts: B+
Best Pick: 2nd Round Michael Pittman Jr. USC
Worst Pick: 4th Round QB Jacob Eason Washington
Jacksonville Jaguars: B
Best Pick: 2nd Round WR Laviska Shenault Jr. Colorado
Worst Pick: 6th Round TE Tyler Davis Georgia Tech
Kansas City Chiefs: B-
Best Pick: 1st Round RB Clyde Edwards-Helaire LSU
Worst Pick: 4th Round S L'Jarius Sneed Louisiana Tech
Los Angeles Chargers: B
Best Pick: 1st Round QB Justin Herbert Oregon
Worst Pick: Not taking any Offensive Linemen
Los Angeles Rams: B-
Best Pick: 2nd RB Cam Akers Florida State
Worst Pick: 7th Round ILB Clay Johnston Baylor
Las Vegas Raiders: B
Best Pick: 4th Round CB Amik Robertson Louisiana Tech
Worst Pick: 3rd Round S Tanner Muse Clemson
Miami Dolphins: B+
Best Pick: 1st Round QB Tua Tagovailoa Alabama
Worst Pick: 2nd Round DT Raekwon Davis Alabama
Minnesota Vikings: A
Best Pick: 2nd Round OT Ezra Cleveland Boise State
Worst Pick: 5th Round WR KJ Osborn Miami (FL)
New England Patriots: C+
Best Pick: 2nd Round S Kyle Dugger Lenoir-Rhyne
Worst Pick: 5th Round K Justin Rohrwasser Marshall
New Orleans Saints: A
Best Pick: 3rd Round OLB Zach Baun Wisconsin
Worst Pick: 7th Round QB Tommy Stevens Miss State
New York Giants: B+
Best Pick: 1st Round OT Andrew Thomas Georgia
Worst Pick: No Pass Rush Help
New York Jets: A-
Best Pick: 2nd Round WR Denzel Mims Baylor & 5th Round CB Bryce Hall Virginia
Worst Pick: 4th Round QB James Morgan FIU
Philadelphia Eagles: B-
Best Pick: 3rd OLB Davion Taylor Colorado
Worst Pick: 2nd Round QB Jalen Hurts Alabama
Pittsburgh Steelers: B
Best Pick: 3rd Round DE Alex Highsmith Charlotte
Worst Pick: None
Seattle Seahawks: B
Best Pick: 3rd Round OL Damien Lewis LSU
Worst Pick: 6th Round WR Freddie Swain Florida
San Francisco 49ers: B+
Best Pick: 1st Round WR Brandon Aiyuk Arizona State
Worst Pick: 7th Round WR Jauan Jennings Tennessee
Tampa Bay Bucs: A-
Best Pick: 2nd Round S Antoine Winfield Jr. Minnesota
Worst Pick: 7th Round RB Raymond Calais Louisiana
Tennessee Titans: B-
Best Pick: 2nd Round CB Kristian Fulton LSU
Worst Pick: 7th Round S Chris Jackson Marshall
Washington Redskins: B
Best Pick: 1st Round Edge Chase Young Ohio State
Worst Pick: 5th Round OLB Khaleke Hudson Michigan