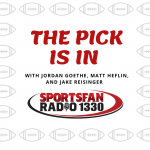 Despite not having a first round draft selection, the Bears did the best they could with only two selections in the first two days on the draft. Heading into draft weekend Bears General Manager Ryan Pace was going to have to get creative with having a limited number of picks in the draft. This included just two selections in the first one hundred and fifty overall picks. On day two of the draft the Bears focused on two areas of need that were identified going into the 2020 draft, the defensive secondary and tight end position. In the second round Pace went with Notre Dame tight end Cole Kmet and Utah corner back Jaylon Johnson. Although many fans were clamoring for Pace to bolster a weak offensive line, Pace played the poor draft hand that he was dealt pretty cleverly by cherry picking two quality position players that can have an immediate impact on improving the Bears fortunes in these two key areas.
Both Kmet and Johnson will step in right away and make a huge impact for the 2020 Chicago Bears. Kmet was widely heralded as the best tight end prospect going into the 2020 draft and Johnson put up some impressive stats in his 3 years as a Utah Utes, foregoing his senior year to take part in the draft. 2020 could be a make it or break it year for both quarterback Mitchell Trubisky and general manager Ryan Pace. Pace knows these guys will need to contribute right away. The Bears are still in need of a strong safety to pair with Eddie Jackson in the secondary along with finding Khalil Mack another running partner on the edge to put pressure on the opposing quarterback.
In past years I've questioned the wisdom of some of the early round picks that Pace has made. However, you can make an argument that his deeper picks have yielded some impressive results. Players such as free safety Eddie Jackson, running back Jordan Howard, running back Tarik Cohen, and defensive tackle Bilal Nichols were all selected in the fourth or fifth round in the three drafts previous to 2020.
Pace saw some limited additional success on day three of the draft. The Bears were able to trade up for Tulsa's pass rusher Trevis Gipson with their first pick in the fifth round.  It's likely that Gipson is being eyed to contribute as a rotational piece initially, but will need some time to develop according to multiple draft analysts. Not what the Bears and Pace should have been pursuing as the team faces a make or break year in 2020. Later in the fifth round Pace traded up, yet again, as he continues to show a proclivity for giving up future draft picks. This time Pace selected speedster wide receiver Darnell Mooney out of Tulane. Darnell Mooney is projected to be a slot wide receiver at the next level and shows some serious speed down the field but has struggled with drops throughout his college career. Every draft analysis out there has said this 2020 class was undoubtedly the deepest receiver group in NFL draft history. That said, I was happy to see the Bears pick up at least one receiver in this draft, although it happened to be later in the draft.
The Bears finished out their 2020 draft class with another fifth round cornerback, Kindle Vildor out of Georgia Southern who should fit in on special teams initially and will compete for the fifth or possibly sixth cornerback spot on the depth chart. With guys like Kyle Fuller, Kevin Tolliver, Tre Robertson, Artie Burns, Buster Skrine, Duke Shelley and now Jaylon Johnson ahead of Vildor on the depth chart, Vildor will have his work cut out for him in training camp. Finally in the seventh the round the Bears actually addressed the offensive line with adding two projected linemen in Colorado's Arlington Hambright and Tennessee State's Lachavious Simmons. Round of applause for Ryan Pace who waited till the seventh round to address arguably the biggest need for the Bears heading into this offseason. More than likely both seventh round picks will be practice squad candidates.
Considering that Ryan Pace was hamstrung by a paucity of early round draft picks, the Bears had an OKAY 2020 draft class. Not great, not bad either and that's why I give them a B- in this year's draft. The All-American cornerback Jaylon Johnson was my favorite pick by the Bears. He fills a big need on the outside and will step in and play right away. Notre Dame's tight end Cole Kmet is a good fit and definitely an upgrade over Jimmy Graham and 2017 second round bust Adam Shaheen. Despite neglecting the O-Line until the seventh round, I thought Ryan Pace was able to satisfactorily fill other needs that needed to be filled and took a reasonable gamble on a couple players that will need time to develop.
It all comes down to how this team performs under third year head coach Matt Nagy. The stakes for general manager Ryan Pace are much higher. Both Nagy and Pace need to develop these new players quickly and slot them into the depth chart, ready to play when the season starts. Mismatches and questionable roster moves plagued the Bears last year. Injuries are inevitable. These draft picks need to perform. If the trajectory of the Bears continues to deteriorate, Pace may not be making draft picks at next year's NFL draft in Cleveland, Ohio.