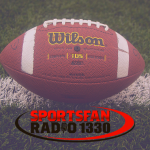 Rockford has had a lot to be proud of so far this NFL season. Here's a quick recap of our former local stars making big impacts at the professional level.
Lutheran-Illinois State-Jacksonville Jaguars RB James Robinson
Robinson has had an incredible start to his NFL Career especially last week vs Cincinnati, finishing the game with 75 rushing yards averaging 4.4 yards over 17 carries. Robinson helped his young QB Gardner Minshew in the passing game as well racking up 4 catches for 32 receiving yards. Through 4 games this season James Robinson is 8th in rushing with 285 yards ahead of other top RBs like Ezekiel Elliott, Todd Gurley & Alvin Kamara. Robinson is also currently ranked 2nd among all RBs in receiving yards, trailing just New Orleans Saints superstar Alvin Kamara.
Boylan-Wisconsin Platteville-New Orleans Saints-Arizona Cardinals TE Dan Arnold
Last week Dan Arnold finished 2nd on the team in receiving catching all 4 targets for 39 yards trailing only WR DeAndre Hopkins. Arnold's Cardinals fall to 2-2 on the season after losing to the Carolina Panthers 31-21.
Boylan-Northwestern-Green Bay Packers DL Dean Lowry
Lowry helped the Packers improve to 4-0 on the season after their big win at home under the lights on Monday Night defeating the Atlanta Falcons 30-16. Lowry also had a big impact on the defensive line holding the Falcons rushing attack to just 78 yards while also gathering 1 total tackle in the game.
At the College Level:
Harlem-Syracuse Orange DL Joshua Black
Two weeks ago Joshua Black had just 1 total tackle vs Georgia Tech but he had a career highlight as he was to pick off the opposing QB! YES Joshua Black the former Harlem Huskie playing defensive line got a INT vs the Yellow Jackets!