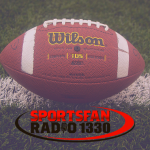 Week 3 NIC-10 Preview:
The 2020-2021 high school football season is off and rolling in the NIC-10 and it continues this Easter weekend with 4 games stretching across 3 nights. Thursday night Week 3 gets kicked off with an intense RPS 205 rival matchup between the East E-Rabs and the Guilford Vikings. Friday night was supposed to be two games played but with the recent positive covid-19 test within the Auburn Knights program the NIC-10 was forced to cancel the teams next 2 games vs Jefferson on Friday and Boylan next week.
The rest of the conference will shift their focus towards the Freeport & Belvidere matchup on Friday night. Saturday afternoon is when the matchups get really good with multiple teams having the opportunity to separate themselves from the pack. Arguably the best rivalry inside the NIC-10 kicks things off in the early game between the traveling Boylan Titans and the Hononegah Indians. All eyes will be on this one as the two undefeated teams do battle for not only bragging rights but a chance to play and contend for a conference championship in a few weeks.
Rounding out the Week 3 action in the NIC-10 will be the undefeated Harlem Huskies traveling over to Belvidere to battle the Blue Thunder of Belvidere North. The Blue Thunder are unfortunately sitting with an 0-2 record and are in desperate need of a win as they look to stay in division title contention.
This is high school football season has been different to say the least but the conference, coaches, players and all the schools are doing the best they possibly can to get these teams back out on the field where the kids want to be. From all the protocols the NIC-10 put in place to begin the season everyone has bought in so far and everyone knows that this will be a complete team effort from all  involved in the sport and in the NIC-10 conference.
Before the season began all 10 teams in the NIC-10 conference were divided up into two divisions; Division A & Division B.
Division A teams consists of Auburn, Boylan, Harlem, Hononegah & Belvidere North
Division B teams consists of Jefferson, East, Guilford, Belvidere & Freeport
Week 3 NIC-10 Schedule:
Thursday Night:       
East (1-1) vs Guilford (2-0) 7:15pm kickoff
Friday Night:
Freeport (1-1) vs Belvidere (0-2) 7:00pm kickoff
Jefferson (0-2) vs Auburn (0-2) *Game Cancelled
Saturday Afternoon:
Boylan (2-0) vs Hononegah (2-0) 1:00pm kickoff
Harlem (2-0) vs Belvidere North (0-2) 2:15pm kickoff