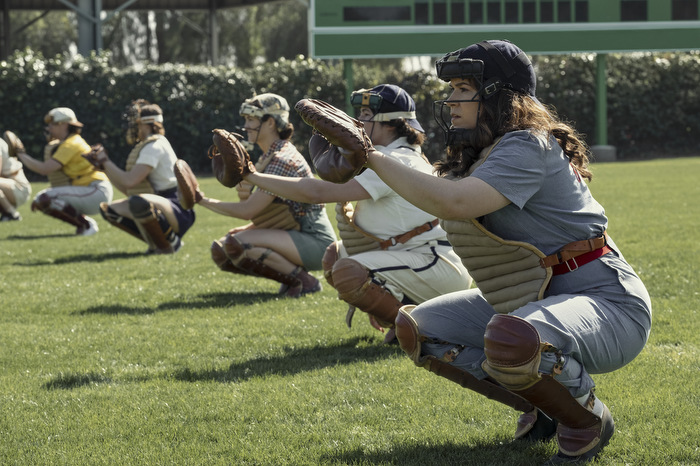 ROCKFORD — You can see the new show that puts the Rockford Peaches back in the spotlight before it debuts on Amazon Prime at a special screening next month at the Coronado Performing Arts Center.
Amazon Prime Video and the city of Rockford will host the free showing of "A League of Their Own" on July 2 as the culmination of a weekend celebration of the 30th anniversary of the classic film by the same name. 
The series premier will be shown at the Coronado, 314 N. Main St., more than a month before it's released on Amazon Prime on Aug. 12. It was also shown at the Tribeca Film Festival in New York City earlier this month.
"The Peaches are an important part of Rockford's history, and we are honored that Prime Video has not only created a series based upon the All-American Girls Professional Baseball League, but is also hosting the series debut right here in Rockford – weeks before it is available to the public," Rockford Mayor Tom McNamara said in a statement. "I'm excited to watch as the launch of this series, as well as the creation of the International Women's Baseball Center in Rockford, usher in a new era of AAGPBL fans."
McNamara and John Groh, president and CEO of the Rockford Area Convention & Visitors Bureau, have called a news conference for 10 a.m. today to provide more details on the event.
The screening will be preceded by a street fair in front of the historic theater that includes free ballpark snacks, interactive baseball games such as "throw like a girl" pitching, 1940s music and cars, a special green carpet photo opportunity and more activities.
The screening will start at 8 p.m. inside the theater for guests who secure their free tickets.
The creators of the show and those who have seen advanced screenings, including International Women's Baseball Center President Kat Williams, said this series deals with heavier topics than the 1992 movie. It delves into issues of race and sexuality, but it still has the same sense of heart and humor as the movie.
"I think Rockford will be proud of it," Williams said in an interview with the Rock River Current earlier this month. "I think it will have a big impact on IWBC and I think it will have a big impact on Rockford."
How to get tickets
Tickets are free to the public and will be available after 3 p.m. Wednesday, June 22 at coronadopac.org/events.
The show will screen at 8 p.m. Saturday, July 2 at the Coronado Performing Arts Center, 314 N. Main St., Rockford.
---
This article is by Kevin Haas. Email him at khaas@rockrivercurrent.com or follow him on Twitter at @KevinMHaas.