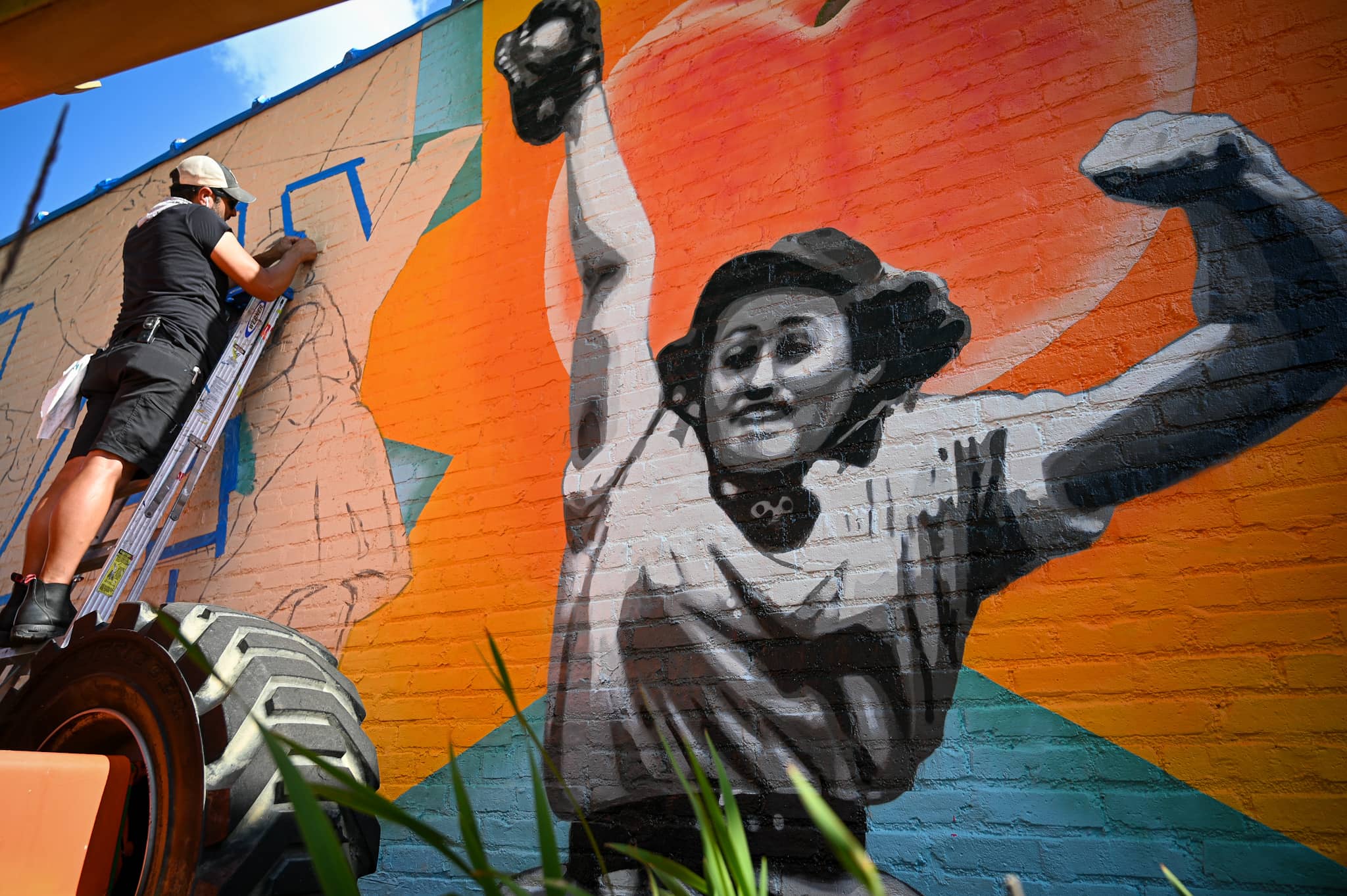 ROCKFORD — Muralists Jenny Ustick and Atalie Gagnet left Rockford in 2019 after reintroducing the city to an inspiring and fearless female pilot who served during World War II.
But after the Ohio artists finished their colorful depiction of Rockfordian Libby Gardner in the city's downtown, their attention turned to another set of pioneering women interwoven in the city's history.
"We left town and we looked at each other and said, 'We want to paint the Peaches,'" said Gagnet, a Toledo, Ohio, artist with 20 years of experience as a muralist.
This year they're doing just that, and their work is providing a vibrant new gateway to the city's Midtown District.
The duo is leading a four-person team in painting a new mural at 206 Seventh St. that pays homage to the famed women's baseball team, which competed in the All-American Girls Professional Baseball League from 1943 to 1954. It's one of a dozen murals being created this summer as part of the annual CRE8IV: transformational Art initiative led by the Rockford Area Convention & Visitors Bureau.
The artists had kept in contact with the bureau waiting for the opportunity to paint the Peaches. This year presented perfect timing with the 30th anniversary of "A League of Their Own," the movie that made the Peaches famous, and the upcoming release of the new Amazon Prime series by the same name.
"It was finding the right time and the right wall and then also finding the right composition — and I think they nailed it," said John Groh, president and CEO of the visitors bureau. "It doesn't always come together right away and I think that's OK because if you wait a little while it comes together in the end in a really cool vibrant way."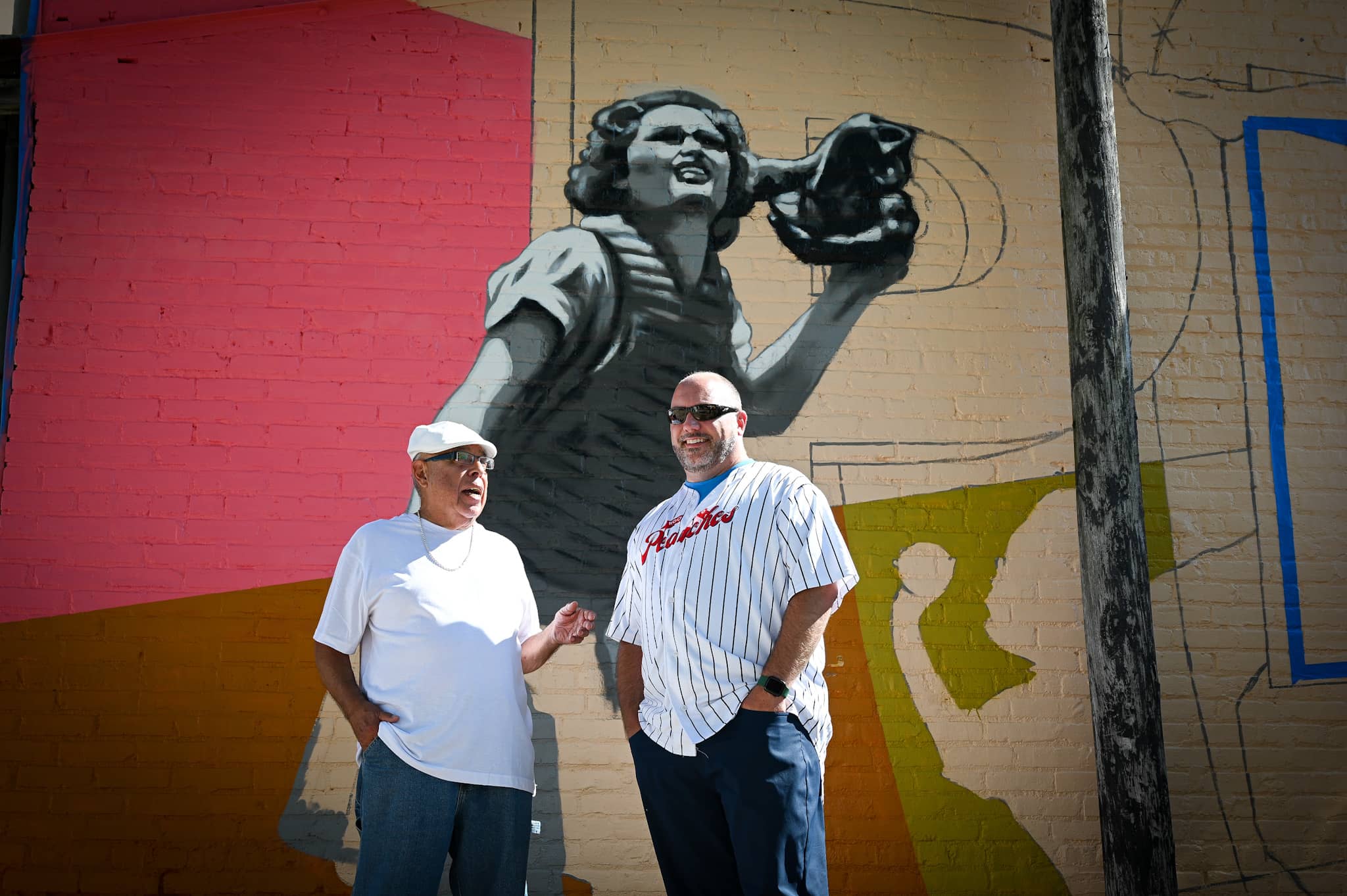 The mural shows six former Peaches players in a black-and-white motif. They're set against a vibrant and colorful backdrop that pops off the brick wall at the corner of Seventh Street and First Avenue.
The location is in a historically significant area where many Peaches players would've once lived, Groh said. And it's less than 2 miles from Beyer Stadium where the team competed.
Ustick and Gagnet looked for active, explosive and dynamic historic images of the players to recreate for the mural. But they also chose players who left their mark on the world after they were done playing.
"These are legacy people who advanced women's sports in really profound ways," Ustick said.
The mural also includes depictions of two players who didn't get the chance to be Peaches — Toni Stone and Mamie Johnson. The talented Black players were kept out of the All-American Girls Professional Baseball League because of the color of their skin, but they went on to be two of three women to play in the previously all-male Negro league.
"It makes sure that the mural is inclusive of the whole story," Groh said of the inclusion of Stone and Johnson.
Ustick and Gagnet also felt it was important to include the Stone and Johnson. Failing to include them would've been a missed opportunity to bring visibility to their story, Ustick said.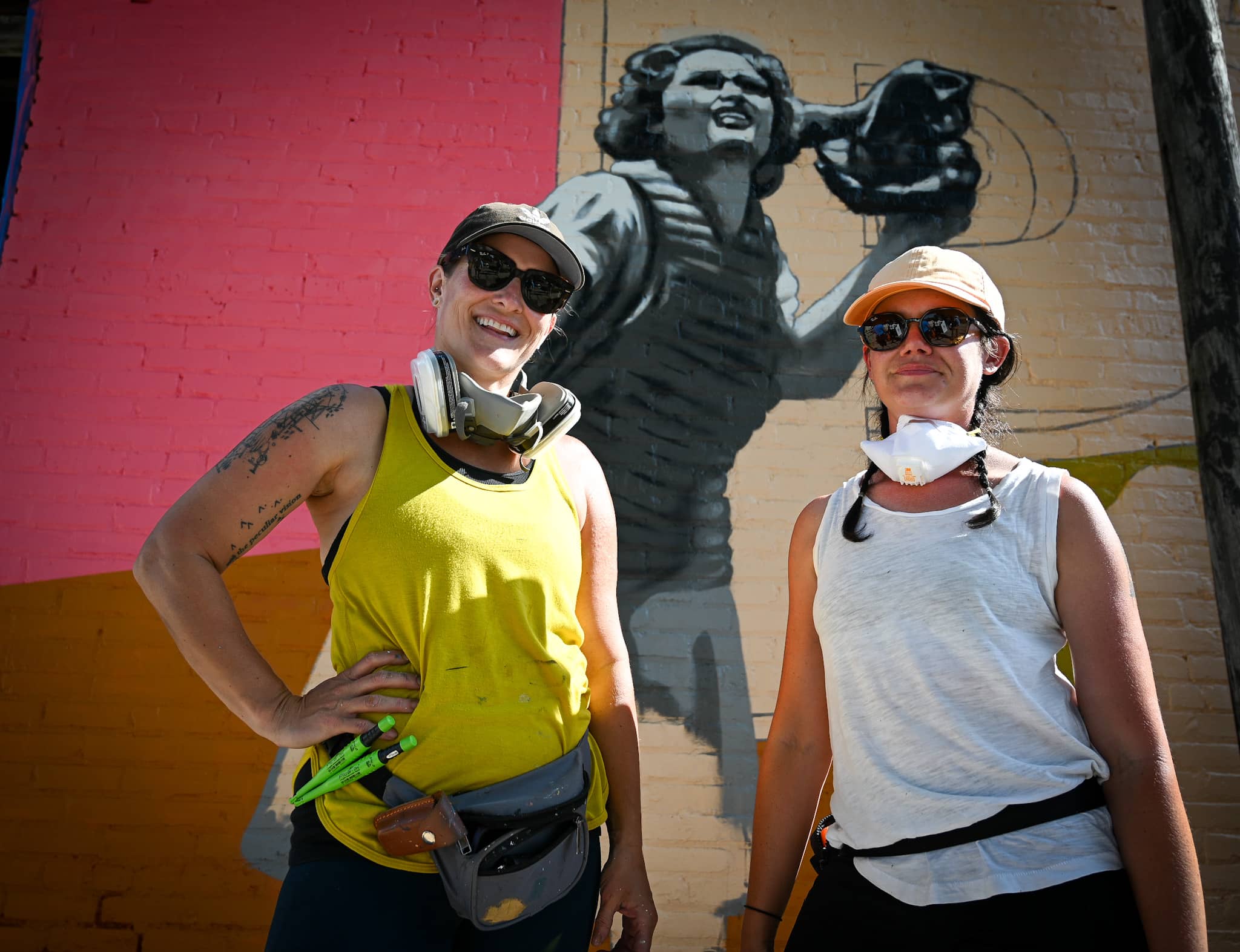 The artists hope the mural will serve as inspiration to young women, which has been a common theme to their work in Rockford. Their 2019 mural showcased Gardner, who was one of about 1,100 women to fly for the Women Airforce Service Pilots in WWII.
"Highlighting accomplished, fearless women is really important to us," said Ustick, an associate professor in art at the University of Cincinnati who has been painting murals since 2008.
Their next mural, which was done in south Rockford in 2021, depicted Mila Rose, a young girl whose family is deeply rooted in the city's south side. This year the duo is also painting an 815-themed mural at 815 E. State St.
The artists have put hundreds of hours into designing and painting the Peaches mural. They plan to wrap up their work on Tuesday.
"I am always humbled and so thankful for the embrace that Rockford has shown us," Ustick said. "They did a phenomenal job attracting and supporting and bringing the energy of artists to the city and I think they have created something that is kind of contagious."
She said residents often approach them to ask about how they too can have a mural on their business or property.
"From a cultural investment point of view it's paying dividends," she said. "It's a really beautiful thing they've started here."
Players on the mural
The new Midtown District mural depicts six former Rockford Peaches players and two players who were kept out of the league because of the color of their skin. Here's who is on the wall: 
Dorothy "Dottie" Green
Dorothy "Dottie" or "Kammie" Kamenshek 
Dorothy Key
Dorothy "Snookie" Harrell
Mildred "Millie" Deegan
Amy Applegren
Toni Stone
Mamie Johnson
---
This article is by Kevin Haas. Email him at khaas@rockrivercurrent.com or follow him on Twitter at @KevinMHaas.