ROCKFORD — Inside the library at Kennedy Middle School, librarian Brooke Imbach has curated a selection of books designed to reflect the interests and needs of the students she serves.
That effort leads to a diverse selection of roughly 8,000 titles on everything from sports to science fiction and fantasy. It also includes stories that deal with issues of race and gender identity, topics that the American Library Association says have spurred an "unprecedented" number of challenges and calls for bans in libraries across the country.
Imbach, however, is part of a group of school librarians who celebrate what's being banned elsewhere. Take for example "Class Act" by Jerry Craft, a young reader's book that deals with students facing racism. The book made headlines last year when a Texas school temporarily removed it from shelves and canceled Craft's virtual visit. At Kennedy, where roughly 67% of students are Black, the book was part of an initiative encouraging all students to read it.
"We shouldn't be restricting what students or adults have access to," Imbach said. "The books that are getting banned and challenged are the books that the students I serve need to be reading.
"Books that are being banned and challenged are books that are mirrors to things that are going on in their world."
This week marks the 40th year of Banned Books Week, which was created in 1982 in response to a surge in the number of challenges to books in school or public libraries.
But four decades later calls for censorship have only increased, according to the American Library Association. It says that this year is already on pace to surpass last year's total of nearly 1,600 books that were targeted for bans across the country.
Book bans have touched this region, too, with a challenge to eight titles at Harlem High School that led to a contentious school board meeting in May and ultimately the removal of "Gender Queer" from school library shelves. The same title, which was the most challenged book of 2021 according to the ALA, also led to a heated public meeting this summer in Dixon.
"Most banned books tend to be for gender identity," said Anne Ciaccio, a teacher librarian and reading specialist at Thurgood Marshall Middle School in Rockford. "They think it's giving (students) ideas, and I don't agree with that. I think they're searching for if they do feel the same as somebody else."
Ciaccio has a presentation for students about banned books that includes a video on "Captain Underpants," a book about a children's superhero that was challenged around the country because it was thought to encourage disruptive behavior. The video encourages kids and parents to think about what's right for their own home, rather than try to force restrictions on others.
Ciaccio doesn't push for students to specifically read banned books in the school's collection of more than 7,600 titles, but she does encourage them to ready anything that will broaden their horizons.
"Middle school is a time of exploration and growth," she said. "They're trying to figure out who they are and what they are. So I think it's important to have books that all kids can identify with."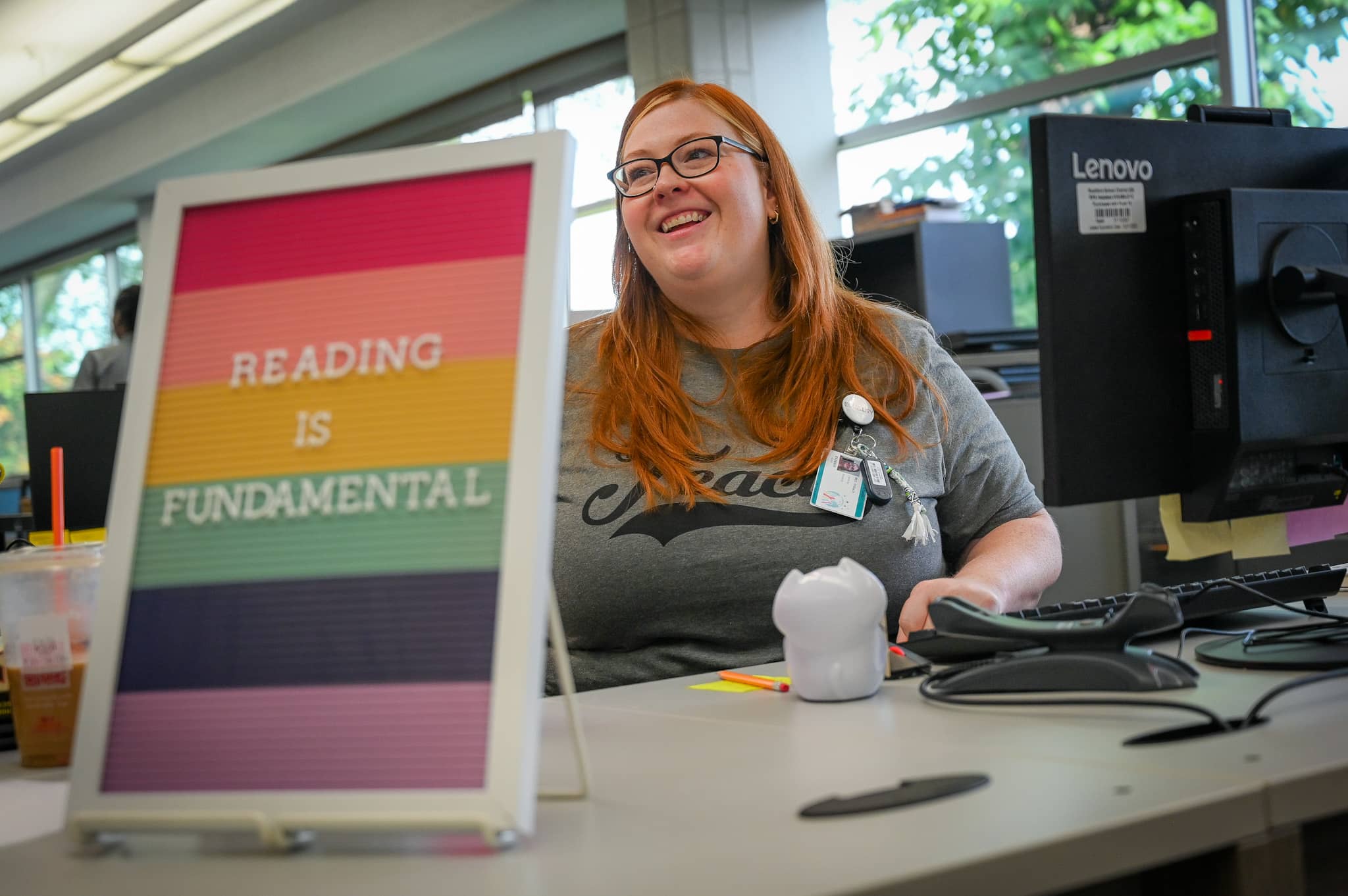 Ciaccio and Imbach say Rockford Public Schools librarians are empowered to make decisions that are best for their students, and challenges from parents are infrequent.
"I feel very supported from district and school officials to purchase whatever I feel is needed," Imbach said.
At Kennedy, that can mean titles that show successful Black and Latino characters, or deal with issues of race. But there has also been interest from students in issues of gender.
"We have a lot of students who will come in and ask for books that feature transgender characters," she said. "That seems to be a big topic in the last year."
'Read books. There's worse things out there'
At Maze Books in downtown Rockford, Dave Pedersen combats book bans with cheap prices.
Pedersen, an Army veteran and author, always has a banned book section in the store and promotes literacy on challenged titles. He tries to keep such titles priced at just $3.
"I do my best to keep them as cheap as possible and as plentiful as possible," Pedersen said. "I think that's the best way to combat this type of censorship and ignorance."
In a digital age where anything you want to see is a few clicks on a smartphone away, Pedersen says books are not the problem.
"If you're worried about your kid reading about something that you're sensitive to, well I'm sorry but the internet exists and it's a click away," he said. "Read books. There's worse things out there."
Pedersen said "The Catcher in the Rye," which has been challenged numerous times because of its language and content, reverberated with him because it was a pure form of art.
"Here was an author who wasn't afraid to speak truths, even if they're skewed, even if they're wrong sometimes," Pedersen said. "He was putting his own soul on the line."
He was encouraged to hear that librarians such as Imbach teach about banned books.
She talked to students at Kennedy about Banned Books Week last Friday as she gave an introductory presentation to seventh graders about using the library.
She told them some of the books have language "that's going to be hurtful for people to hear or read," but she encourages students to read banned books and ask themselves what message it is that people are trying to restrict.
'It's about giving students opportunities'
At Harlem, which faced the region's most contentious challenge to books earlier this year, there is a policy in place for contesting books that starts with the school librarian and can escalate all the way to the school board.
That's what happened in May when eight books were challenged. A committee designated to review the challenges recommended that all eight books remain in the library, but school board members ultimately felt "Gender Queer" needed to go. Some board members said that wasn't because of the message in the book, but because of its illustrations of sexual content.
The battle over those books was rare at Harlem, where there is a less contentious policy that allows parents to have their child opt out of a certain book or lesson.
But, in general, school administrators want their libraries to have a diverse array of titles that allow students to see themselves in the books available.
"We want to make sure our students are identified in the books we have available," said Jason Blume, the director of equity and engagement for the Harlem School District. "We want to make sure not only is it interest based, but that our students have the access to the resources that are going to be supportive to them as well."
Ultimately, the choice of what to check out from the library is up to the students, Ciaccio and Imbach said. Harlem Superintendent Terrell Yarbrough was on the same page.
"I just feel that we should have books available for our kids to choose what they want to read," he said. "That's the function of a library."
Top 10 most challenged books last year
The American Library Association Office for Intellectual Freedom tracked 729 challenges to library, school and university materials in 2021. There were 1,597 books targeted. This is the ALA's list for most-challenged books, along with the reason cited for its challenge.
"Gender Queer" by Maia Kobabe
Why it was challenged: LGBTQIA+ content and because it was considered to have sexually explicit images.
"Lawn Boy" by Jonathan Evison
Why it was challenged: LGBTQIA+ content and because it was considered to be sexually explicit.
"All Boys Aren't Blue" by George M. Johnson
Why it was challenged: LGBTQIA+ content, profanity and because it was considered to be sexually explicit.
"Out of Darkness" by Ashley Hope Perez
Why it was challenged: Depictions of abuse and because it was considered to be sexually explicit.
"The Hate U Give" by Angie Thomas
Why it was challenged: Profanity, violence and because it was thought to promote an anti-police message and indoctrination of a social agenda.
"The Absolutely True Diary of a Part-Time Indian" by Sherman Alexie
Why it was challenged: Profanity, sexual references and use of a derogatory term.
"Me and Earl and the Dying Girl" by Jesse Andrews
Why it was challenge: Considered sexually explicit and degrading to women.
"The Bluest Eye" by Toni Morrison
Why it was challenged: It depicts child sexual abuse and was considered sexually explicit.
"This Book is Gay" by Juno Dawson
Why it was challenged: Provides sexual education and LGBTQIA+ content.
"Beyond Magenta" by Susan Kuklin
Why it was challenged: LGBTQIA+ content and because it was considered to be sexually explicit.
Source: American Library Association Banned & Challenged Books
---
This article is by Kevin Haas. Email him at khaas@rockrivercurrent.com or follow him on Twitter at @KevinMHaas or Instagram @thekevinhaas.