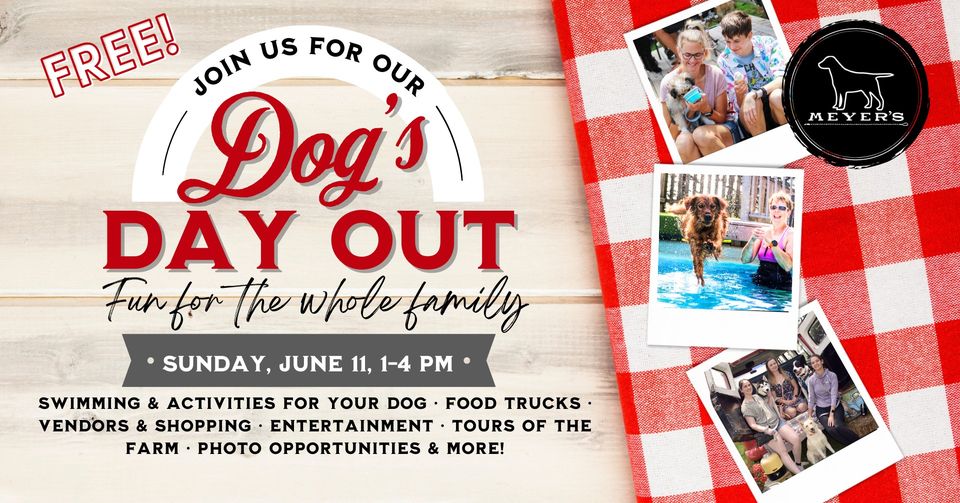 BELVIDERE — Get your dog's tail wagging on Sunday, June 11, at Meyer's Tails Up Farm from 1 to 4 p.m. with a free community event.
Enjoy a day of fun activities like agility courses, dock diving, canine aquatics, rally, and more at Dog's Day Out. Meyer's is an 18-acre property located at 5390 Irene Road.
"The purpose of us having Dog's Day Out is summer is here and there's nothing more than your dog wanting to do things with you," owner Gwen Meyer said on an interview on the B103 Morning Routine.
"We're all about the dog to human relationship with the classes that we offer. That's our focus out at Meyer's. The ability to teach people different things and give them a little taste of things they could be doing with their dogs while they're out is really great."
There will be vendors selling everything from retail to interactive toys, The Canine Crunchery will be onsite with tasty snacks for your pub, smash burgers and cheese curds from Sizz N' Fizz, enjoy delicious ice cream treats from Lil Scoop, and live entertainment. Don't forget a towel because Meyer's pool will be open for your dog to swim, try dock diving classes, or watch dock diving demos.
Your best friend will also be able to run a race on their Fast Cat course and test out the rally and agility courses.
Meyer's Tails Up Farm is encouraging area residents who want to attend to bring an item that can be donated to Boone County Animal Control. From dog and cat food to toys, if you bring an item, you'll get to spin the wheel and win a prize.
"It's so important for people to remember that dogs need not just exercise but mental stimulation," Meyer said. "This event is designed, first to be a fun and free day out with your dog, but second, to allow owners to learn new ways to keep your dog happy and healthy."
All dogs are welcome, but Meyer's asks that you secure them on a 6-foot leash. No retractable leashes.
Know before you go | Dog's Day Out
Where: Meyer's Tails Up Farm, 5390 Irene Road, Belvidere
When: 1 p.m. to 4 p.m. Sunday, June 11th
Cost: Free
Info: info@meyerstailsupfarm.com; 815-547-5778
---
This article is by Chelsea Meyer. Email her at chelsea@b103fm.com.