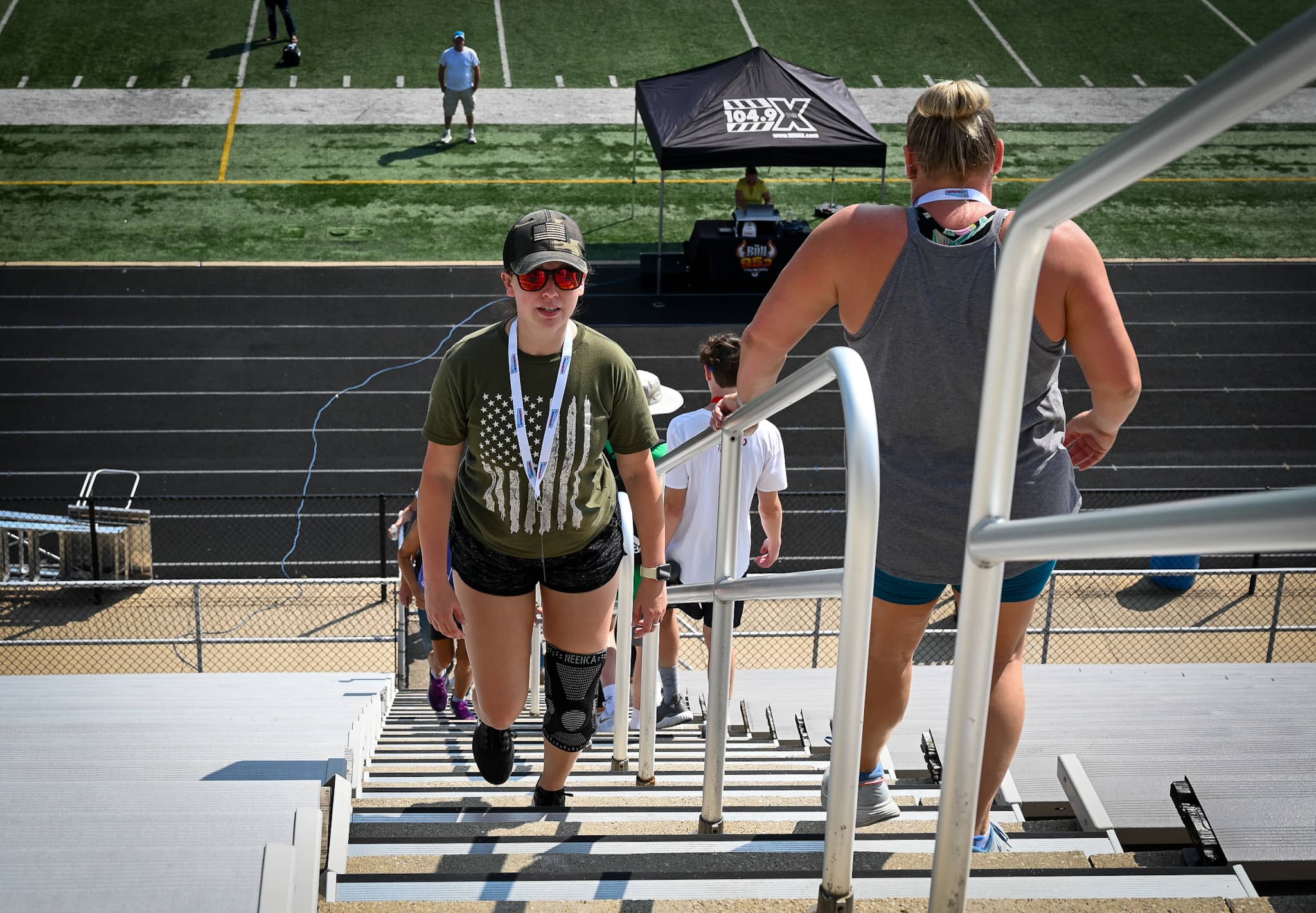 ROCKFORD — During the most grueling moments of climbing 110 flights of stairs on Sunday, Renee Endress found inspiration from the firefighter whose photo she wore around her neck.
Participants in the Hero Climb at Guilford High School's Swanson Stadium each wore a lanyard with a photo and biography of a firefighter who died while responding to the Sept. 11, 2001, terrorist attacks at the World Trade Center.
Endress had selected Captain Brian Hickey, a 20-year veteran of the New York City Fire Department and father of four who died responding to the World Trade Center. He was 47.
Some participants held their lanyard outstretched in front of them to showcase who they were honoring in the climb. Endress, a Poplar Grove resident, talked to Hickey to find the strength to continue the climb with the sun bearing down.
"As I was going up and down the stairs I was talking to him and letting him know we're still here," she said. "This man had on more gear on him and he did it how many times? They didn't just do it once. And I'm like, 'we're doing it.' I kept telling my legs to shut up and keep moving."
Roughly 100 people attended the Hero Climb, now in its second year, which challenged participants to ascend the stadium stairs 30 times to equal the 110 flights of the World Trade Center.
The event was put on by 95.3 The Bull, B103, 100 FM and 104.9 The X in partnership with Anderson Toyota and Bufalo Contracting. It sets out to both honor the sacrifice first responders made 22 years ago and raise money for The Greg Lindmark Foundation, which supports local first responders with free counseling services.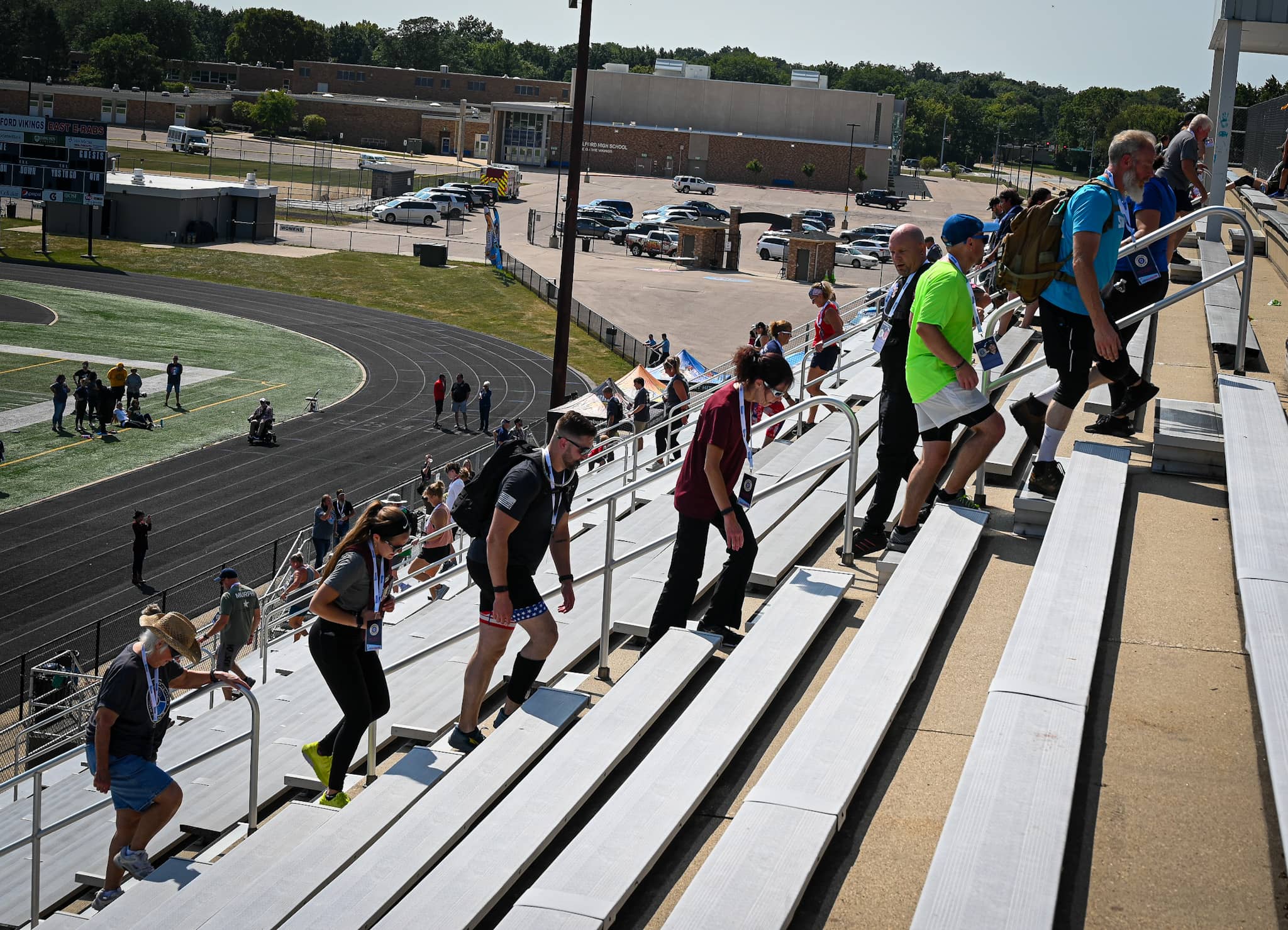 Participants ranged from athletes looking to challenge their endurance to future and current firefighters and anyone else who wanted pay tribute to the men and women who died responding to the attacks.
"At the end of the day, this is also my job. We've got to be able to do this," said Mario Lara, a firefighter/paramedic with the Loves Park Fire Department. "If I know I can do this, I know I can push myself on a fire and climb those steps if I need to."
Lara climbed for Vernon Richard, a 24-year firefighter who was promoted to captain five days after his death responding to the World Trade Center.
"I'd look down (at the lanyard of Captain Richard) and it's motivation to keep going," Lara said.
Father and son Justin and Terrance Milburn climbed as many flights as they could in their Kirkland Fire Department gear. By they second flight up, the volunteer firefighters said they could feel the burn in their legs and the swamping heat inside the suits.
"With how heavy the bunker boots are, you can just feel it pulling down on your feet," said Terrance Milburn, who's 16.
They wore lanyards that memorialized father-and-son firefighters Joseph Angelini Sr. and Joseph Angelini Jr., who died in the twin towers collapse.
The Milburns had worked a shift for the Kirkland Fire Department the night before the Hero Climb.
"The pain, the burn; you just go with it and push through," Justin Milburn said.
---
This article is by Kevin Haas. Email him at khaas@rockrivercurrent.com or follow him on X at @KevinMHaas or Instagram @thekevinhaas and Threads @thekevinhaas