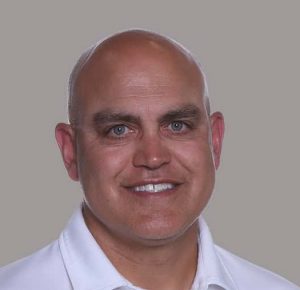 One week into his tenure as the new head football coach at Northern Illinois University, Thomas Hammock now has his play-caller.
After leading one of the most successful offenses in the country over the last eight years, Eric Eidsness has joined the NIU staff as offensive coordinator, Hammock announced today.
Eidsness, the first addition to Hammock's Huskie coaching staff, comes to NIU from South Dakota State, where he has been offensive coordinator since 2011; he added associate head coach responsibilities in 2015. During his time at SDSU, the Jackrabbits made seven straight appearances in the FCS Playoffs, including in 2018, when the offense averaged a school-record 42.5 points and 480.5 yards per game to rank fifth and 10th in the nation, respectively.  The Jackrabbits finished 10-3 and made their second consecutive appearance in the FCS semifinals in 2018, and were ranked third in both final polls. The SDSU offense featured four All-Americans and seven all-conference players.
Hammock said Eidsness' offenses at South Dakota State caught his attention during his time as a coach with the Baltimore Ravens.
"Four years ago, I had the chance to watch (running back) Zach Zenner from South Dakota State, and I was really impressed with the style of offense I saw," Hammock said. "Then last year, we were evaluating a tight end (from SDSU) and seeing the offense and the way (Eidsness) adapted it to the players he had led me to believe Eric is the type of offensive coordinator who will adapt to his players and put them in position to be successful.  I'm excited to have him here and working with him to develop this Huskie offense."
The South Dakota State offensive record book was rewritten multiple times under Eidsness' direction as the Jacks established 28 single-game, season and career marks in 2016, broke 15 records in 2017 and set or extended 25 school records last year.  As quarterbacks coach in addition to his offensive coordinator and associate head coach roles, Eidsness mentored Austin Sumner and Taryn Christion to the top of the school record books in every passing category.
Christion was a three-time finalist for the Walter Payton Award, presented to the top offensive player in the FCS, in 2016, '17 and '18. Tight end Dallas Goedert was also a two-time Payton Award finalist before being selected in the second round of the 2018 NFL Draft by the Philadelphia Eagles, while wide receiver Jake Weineke was a four-time All-American for Eidsness and the Jackrabbits and a two-time Payton Award finalist.
From 2012-14, the SDSU offense featured Zenner, who became the only running back in NCAA Division I history to rush for more than 2,000 yards in three consecutive seasons. Zenner was also a three-time Walter Payton Award Finalist for the Jackrabbits.
Eidsness said his philosophy has been to build his offenses around the talents of the players.
"Wherever I've been it's been a player-driven offense," he said. "You want to utilize the talents of the players to put them in the best possible position to succeed.  We will lay the foundation [of our offense], and will take time to get to know the players, their abilities and focus on getting the ball to our playmakers.
"I'm really excited for the opportunity," he continued. "Anytime you can go to a program with a long tradition of success like this one, then to be with a guy like Coach Hammock who is a great person who was a great player here, it's special."
Prior to returning to South Dakota State for his third stint at the Brookings, South Dakota school, Eidsness was the head coach at Southwest Minnesota State University from 2004-09.  He built the program from a roster of just 13 eligible players when he arrived to 120, while raising the team GPA from 2.2 to 2.9.
During his tenure with the Mustangs, he compiled a 26-40 record, which included a 6-5 season in 2008 — only the eighth winning season in school history. His 26 victories as head coach rank second in program history.
— Sportsfan 1330