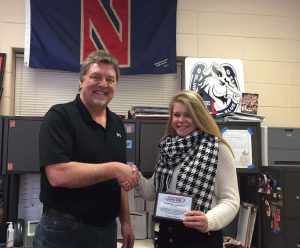 This week's recipient of the Sportsfan 1330 Student/Athlete of the Week – presented by Forest City Dental – is a perfect example of what this award is all about. She is Belvidere North senior Ashlyn Smith.
Ashlyn is a leader for the Blue Thunder basketball team, averaging 7 points and 4 rebounds while serving as co-captain.
Off the court, she is a member of National Honor Society and is president of the Student Council. She is also president of Best Buddies, an organization that helps students with special needs..
She is also a Northway Mentor and student ambassador, where she helps out new students.
And Ashlyn was recently accepted into the University of Iowa, where she will major in biology on her way to pre-med.
This award honors those athletes who make major contributions in the classroom, their schools and their communities, and Ashlyn certainly fits all that criteria.
To see her presentation video, click here.
And if you know of an athlete who deserves this award, click here.