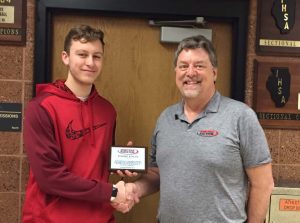 This week's recipient of the Sportsfan 1330 Student/Athlete of the Week – presented by Forest City Dental – is Harlem senior basketball player Blake Gribble. He was an important piece off the bench for Coach Mike Winters' team this season, one that resulted in a regional championship and 20 victories.
But there's obviously more to Blake than basketball. He carries a 3.33 grade point average, and he's very active in the school's Vet Doc program. And he recently gave a speech at the Veteran's Day  ceremonies.
And Blake does this all while battling diabetes. Blake has a service dog with him throughout the day to help detect when his blood sugar level gets too low.
This award honors those athletes who make major contributions in the classroom, their schools and their communities.
To see Blake's presentation video, and to hear about his work with veterans, click here.
To nominate a future Student/Athlete of the Week, click here and fill out the form.