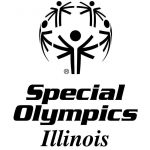 Volunteers are still needed for the Special Olympics Illinois 2019 Region A Spring Games, which are set for Saturday, May 4 from 9 a.m.–3 p.m. at Harlem High School.
Approximately 640 athletes are expected to compete in athletics (track & field), the most popular of 18 sports offered by Special Olympics Illinois. There will also be 15 teams competing in soccer.  The event begins at 9 a.m. with the Opening Ceremonies.
All athletes will march in the parade of athletes and recite the Special Olympics oath, followed by the running of the torch with the "Flame of Hope" and the lighting of the cauldron signifying the opening of the games.
Athletes will compete in the 50-, 100-, 200-, 400-, 800-, 1,500 standing and running long jumps; shot put; tennis and softball throw; 100-, 400- and 800-meter walk races; wheelchair competitions and assisted races.
To compete in the Special Olympics Illinois Region A Spring Games, athletes must train for eight weeks. Athletes who win a gold medal at the Region games qualify to compete in the Special Olympics Illinois State Summer Games which is held June 7-9 on the Illinois State University campus in Normal, Illinois. More than 4,000 athletes from around the state are expected to compete in Summer Games
Those interested in volunteering for duties like timers, huggers and set-up should click here.