This past school year, we recognized 23 young men and women who were athletes, and yet so much more. It was our inaugural year of the Sportsfan 1330 Student/Athlete of the Week, presented by Forest City Dental.
The award was established to recognize high school kids almost more for their academics and involvement in their schools and communities, than it was to recognize their on-court/on-field accomplishments.
And boy did we have some impressive athletes. They weren't always the stars when they played, but they represent what we all want our children to be and to become.
We took nominations from the public, including parents, teachers, coaches and athletic directors. Then the Sportsfan staff went though them to select the best of the best, which were honored weekly throughout the school year, an exercise we will do again beginning this fall.
So here is a quick roundup of 23 stars of the 2018-19 class. They are pictured with Sportsfan Sports Director Randy Ruef: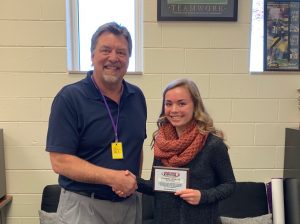 Emma Salley, Belvidere: Cross country and track, 4.0 GPA, National Honor Society, B Club, Student Ambassadors, volunteers at animal shelter and at running camps, selected to attend NIC-10 Athlete Leader Conference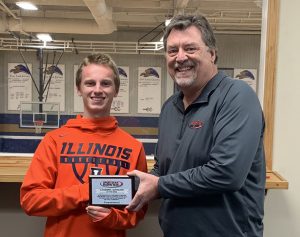 Cal Granite, Rockford Christian: Cross country, basketball and track, 4.48 GPA, National Honor Society, Student Council treasurer, volunteers at Johnson Elementary School, works school concession stands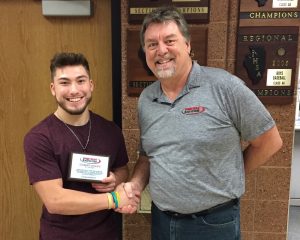 Leo Ruiz Jr., Harlem: Football and wrestling, 4.0 GPA, National Honor Society, Student Council, voted to Minority's Male Leadership Conference, volunteers for Suicide Awareness Walk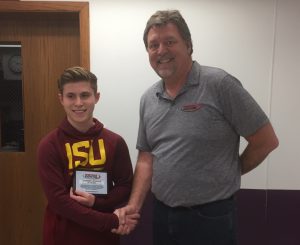 Corey Haselton, Hononegah: Football, Student Council, Varsity H-Club, VP of Leo Club, National Honor Society, works with special needs students in sports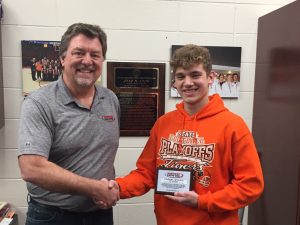 Tyler Camling, Byron: Football, Yearbook committee, volunteers at Byron Fest and Madrigal dinner, helps with Maggie and Amos Memorial benefit running games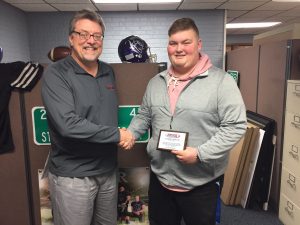 Jacob Kruckenberg, Lutheran: Football, National Honor Society, president of Crusader Honor Society, VP of Red Cross Club, chairman of Trunk or Treat program, public address announcer for boys/girls basketball and baseball, choir, Madrigals, Academic team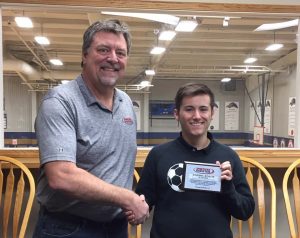 Max Cincinnati, Rockford Christian: Soccer, 4.68 GPA, National Honor Society, does mission trips to Dominican Republic to help build homes, schools and churches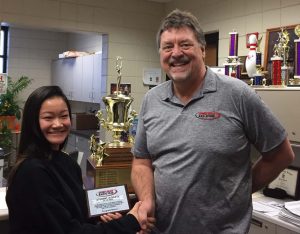 Chloe Broshous, Harlem: Dance, 4.42 GPA, National Honor Society, volunteers with Special Olympics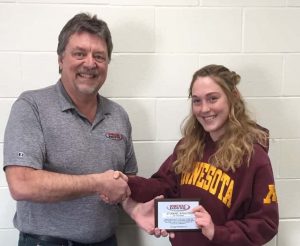 Dori Russo, Guilford: Soccer, basketball and tennis, Science Olympiad, 4-H camp counselor, member of Quiz Bowl team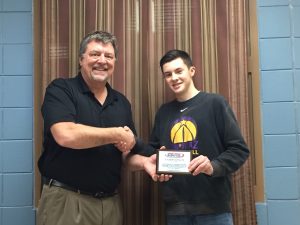 Ben Hooker, North Boone: Basketball and golf, 3.5 GPA, Leo Club, in charge of North Boone Student Section Twitter page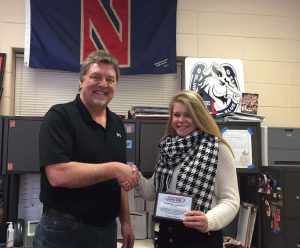 Ashlyn Smith, Belvidere North: Basketball, Student Council president, National Honor Society, Best Buddies president, Northway Mentor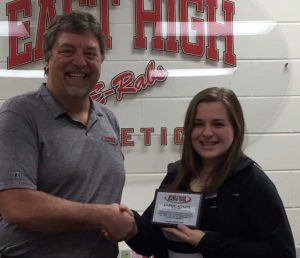 Savannah Turen, East: Cheerleading, 4.1 GPA, National Honor Society, Buddies Program, helps out at elementary schools and with Fun Fairs and Food Bank.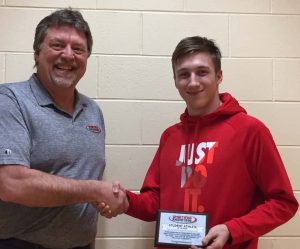 Chase Clark, Oregon: Wrestler, 3.6 GPA, volunteers for clean up days at Methodist Church, blood drive donations, Oregon service days, swim meets, club wrestling tournaments and the Dark Horse Lodge Trek for Troops.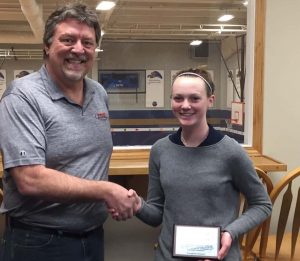 McKenzie Park, Rockford Christian: Cross country and basketball, 4.2 GPA, Class president, on Science Olympiad, 100 service hours every year, including volunteering at RPS 205, at Rockford Christian Elementary, at various camps and with the young players in the Wildcats program.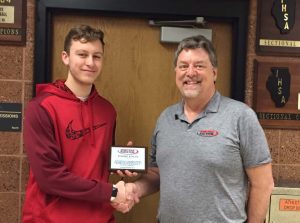 Blake Gribble, Harlem: Basketball, 3.33 GPA, active in Vet Doc program, spoke at Veteran's Day ceremonies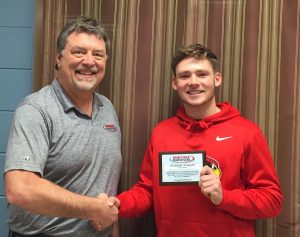 Britton Morris, North Boone: Football, 4.16 GPA, National Honor Society, volunteers with RAMP and K Cancer Baseball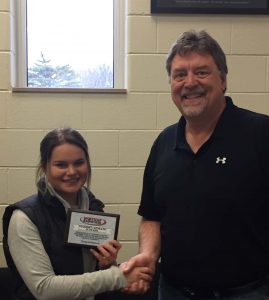 Mallory Gibbons, Belvidere: Softball and volleyball, 3.7 GPA, National Honor Society, B Club, volunteers for Feed My Starving Children, Special Olympics, Rockford Sharefest and Salvation Army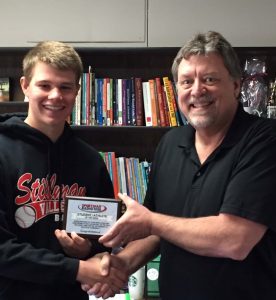 Luke Robert, Stillman Valley: Football, soccer, basketball and baseball, 4.3 GPA, 36 on his ACT, one of 13 boys in Illinois named to IHSA All-State All-Academic Team, went to state on WYSE team, lead in high school musical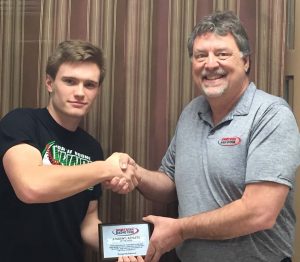 Matthew Hutchinson, North Boone: Football and baseball, 4.2 GPA, National Honor Society, volunteers for Habitat for Humanity, K Cancer Baseball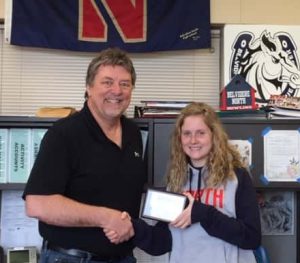 Olivia Hart, Belvidere North: Soccer and tennis, team captain, 4.0 GPA, an ACES student, National Honor Society, volunteers at local hospital, helps with Special Olympics and BraveHearts Therpeutic riding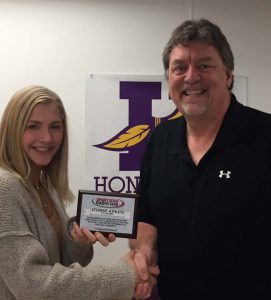 Hannah Haefner, Hononegah: Softball, Illinois State Scholar, volunteer coach for youth softball, works Stateline Fury camps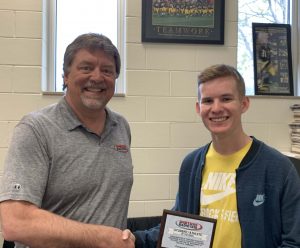 Dane Jankiewicz, Belvidere: Cross country and track, team captain, B-Club, reads to elementary students, helped organize youth 5K race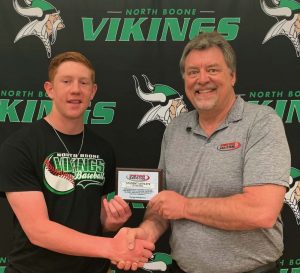 Connor Nolen, North Boone: Football, basketball and baseball, 3.85 GPA, National Honor Society, Student Council, Best Buddies, Pit Crew