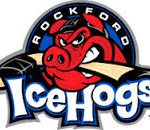 As we celebrate the New Year and leave 2019 behind I wanted to take one last look back at this past decade. The Rockford IceHogs first season in the American Hockey League (AHL) was back in 2007-08. Since then there has been a lot of great hockey players come through our town. Guys like Bryan Bickell, Corey Crawford and other players who helped lead the Blackhawks to not one, not two but three Stanley Cups in the last 10 years in the NHL! So I decided to sit down and write out my list of the 10 best IceHogs players of this past decade.  It was a collaborative effort with my good friend Matt Heflin. We sat down and talked about a great list of former and current IceHogs players. I have to admit it was very tough narrowing down our list from like 18-22 players to just 10. If you have a player that's not on this list and think he should be make sure you comment them below! Again big thank you to Mike Peck for the great info and my buddy Matt Heflin who helped me construct this great list!
1) C Brandon Pirri: The guy who has all the records in this past decade for the Rockford IceHogs. Brandon Pirri was an elite scorer and showed that he could score the puck from anywhere on the ice which eventually led him to become a fan favorite. Pirri will finish with the most points 200 and the most assists 132 for the IceHogs this past decade. Having a huge season in 2012-13 where Pirri finished with a career high 53 assists and 75 points, Pirri was eventually called up to the big leagues. Unfortunately Pirri never quite found his footing there and he was eventually traded to Florida. And after bouncing around for a little bit Brandon Pirri eventually found his way back to the Stateline. But this time he was on the wrong side of the Lottery Cup rivalry between the Chicago Wolves and our Rockford IceHogs. Brandon Pirri will be remembered as the best IceHogs player this past decade.
2) Right Wing Ben Smith: One of the more hyped prospects in the last decade who spent some time here in Rockford. Ben Smith had an act to score the puck, which helped him on the power-play unit where he was dominant for a number of seasons with the IceHogs. Ben Smith was fast, creative, knew how to score and instantly became a beloved player by the fans with both the IceHogs and the Blackhawks. Ben finished with 109 points in just 3 seasons here in town with the IceHogs.
3) Center Mark McNeil: Mark McNeil will be remembered from this past decade as one of the best captain's Rockford has ever seen. McNeil exemplified leadership qualities that go along with being a captain and was really a leader since day one. A former first round pick McNeil played the majority of his career here in Rockford after not quite making it to the next level in Chicago he was traded to Texas where he just played one season eventually finding his way back to Rockford for one final season. Before bouncing around a little bit more eventually finding a place in the Boston Bruins organization. Mark McNeil's time here in Rockford will never be forgotten as he will finish with 273 games played in an IceHogs uniform the most in this past decade.
4) Left Wing Jeremy Morin: In Jeremy Morin's tenure in Rockford he got to know the fans and the community really well as he was indeed another fan favorite in his time here in town. Morin will go down as the IceHogs all-decade scoring leader. Finishing with 90 goals scored in his 6 seasons with the team, playing a total of 236 games with Rockford. Jeremy was a physical winger who knew how to get the puck through the crease no matter the cost. Another player that fans from this past decade will never forget.
5) Defensemen Adam Clendening: The experienced two-way defensemen Adam Clendening will go down as the IceHogs best defender of this past decade. But he will be better known as the Hogs best offensive-defensemen who was a strong power play guy like Ben Smith from this past decade. He was solid in transition and was solid off the ice as one of the veteran leaders in the locker room. Clendening has bounced around the league for most of his career but has made 3 separate stops here with the Hogs so in a way he always finds his way back home to Rockford.
6) Left Wing Bryan Bickell: It didn't matter where Bryan Bickell played either with the Blackhawks or here with the Icehogs he was always a fan favorite wherever he went. After Bickell helped lead the Chicago Blackhawks to multiple Stanley Cup finals he ended his time with the Blackhawks organization here in town with the IceHogs on his expiring contract. After he left the team Bryan Bickell was later diagnosed with Multiple Sclerosis a neurological disease that affects the central nervous system. Bickell's current teammates in Carolina supported him through everything along with his former teammates in Rockford and Chicago as well as across the entire league. Everyone was behind Bryan Bickell in his health fight. Later Rockford had a great promotional night honoring Bryan Bickell. The IceHogs gave away "Brave for Bickell" shirts which in fact sold out! After that night it really showed how much support our town has for former players like Bryan Bickell as he continues his fight. Bickell will always have fans and support here in Rockford!
7) Left Wing P.C. Labrie: A former captain for the Rockford IceHogs P.C. Labrie carried the capital C proudly and with honor in his time here in town. Labrie was never a guy who would light up the stat sheet but the veteran played his role and was the leader of his squad for a number of seasons. Labrie was better known for the impact he made off the ice in the community. P.C. Labrie helped lead an anti-bullying campaign and even visited a number of different schools within the community to help put an end to bullying. And for his work off the ice Labrie was awarded for the Icehogs Man of the Year for again all his hard work off of the ice within the locker room and out in the community.
8) Defensemen Viktor Svedberg: A fan favorite as always Viktor Svedberg spent a number of seasons here in town and was never an elite skater but he knew how to lay a big hit on the boards from time to time. Viktor was also a great net front presence/screener using his great size to his advantage. And speaking of size, Svedberg will be remembered as one of the tallest hockey players in both the NHL and AHL, standing at 6"9, towering over the opposing team.
9) Goalie Michael Leighton: For most of his career Michael Leighton has been a journey man across both the AHL and NHL. He finally found a nice home here in Rockford for a couple seasons helping guide the Icehogs to 50 wins in his 2 seasons in town. While also holding down the net and finishing with a 0.918 and a 0.920 save percentage in his 2 seasons with the Icehogs. You could argue both Michael Leighton and Carter Hutton are 1A and 1B for the best 2 goalies in the last 10 years here in Rockford based on their production with the team.    Check out the video below!
10) Left Wing Brandon Bollig: As a forward Brandon Bollig was never known as an offensive threat in his days here in Rockford. Instead he was simply a crowd pleaser, known as the prolific fighter on the team and nicknamed "defender of teammates" also known as the Enforcer! Bollig racked up a lot of penalties over his AHL career which added up to a total of 442 penalty minutes to be exact in his 4 seasons spent here in Rockford. Check out the video below and see for yourself!
Honorable Mention: Forward Tyler Sikura, Center Jake Dowell, Forward Brandon Mashinter and Goalie Carter Hutton.