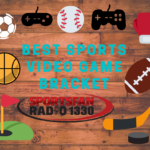 Over the last week in a half we narrowed down our top 32 sports video games of all-time. We finally made it to our Elite 8 with a couple surprises along the way. I am quite surprised by the results thus far especially after 2 of our top 4 seeds have already been eliminated with NFL 2K5 & Madden 2003. NCAA Basketball 04 the 30th overall seed has been the Cinderella story so far during the tournament but will have a tough match-up vs the 6th overall seed NBA 2K11 in the Final 8.
Nintendo has been well represented in the tournament from the old classic Tecmo SuperBowl to Mario Kart 64 to Mike Tyson's Punchout. Even Wii Sports made a good run but eventually fell to the number 1 overall seed Tony Hawk Pro Skater 2 in the 2nd round. Unfortunately with a lot of representatives only Mario Kart 64 remains in the Final 8.
Madden and NBA 2K have been battling it out over the last few days as well but just Madden 2004 & NBA 2K11 remain. Tony Hawk Pro Skater 2 has been the heavy favorite thus far and continues to be but I wouldn't count out a game like Backyard Baseball to make a quiet run into the Final 4 at least. Backyard Baseball did just upset the 2nd overall seed Madden 2003 in the last round.