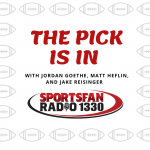 You could have asked any NFL Draft analyst out there before the draft started and none of them would have said the Packers would actually draft a quarterback in the first round, let alone trade up for one. Like most NFL fans I was stunned by Green Bay as they traded up to select Utah State Quarterback Jordan Love in the first round after making it to the NFC Championship game last season. Going into this draft, Green Bay desperately needed to surround future Hall of Fame QB Aaron Rodgers with more talent on the outside if the team wanted to repeat its success from a year ago. Literally one game away from playing for a Super Bowl and the team decided to use their first three draft picks on players who might not even contribute in 2020. Very puzzling, but it looks like general manager Brian Gutekunst and head coach Matt LaFleur are already planning for life beyond quarterback Aaron Rodgers in Green Bay.
There's no denying that Utah State quarterback Jordan Love has the talent to play the quarterback position but he will need time to develop behind a good young coaching staff and veteran Aaron Rodgers.  Ironically, it was exactly 15 years ago, to the day, that future Hall of Fame Quarterback Aaron Rodgers was selected in the first round of the 2005 NFL draft. The Jordan Love pick appears to have parallels to Rodgers early years in the NFL. Rodgers saw very little playing time in his first two years while under the tutelage of Hall of Fame Quarterback Brett Favre. You can't make that stuff up, destiny works in its own mysterious ways.
Many Packers fans were upset with the draft selection on Thursday night.  I don't blame them, especially after looking at Love's 2019 stats at Utah State.  A lower completion percentage and quarterback rating when compared to his stellar 2018 season are cause for concern. But you have to remember Utah State lost nine of their starting eleven players on offense from 2018 to 2019. In 2018 Jordan Love looked like a stud. If he had been able to duplicate that success in 2019, he would have undoubtedly been a top 10 pick at quarterback.
After taking a gamble in the first round, Gutekunst was expected to come back on day two and bring in some serious talent to help out Aaron Rodgers for the immediate future in 2020. Instead the exact opposite happened yet again for Packers fans. Green Bay proceeded to select Boston College running back AJ Dillion, an old school ground and pound between the tackles running back.  The Packers don't have a running back built like AJ Dillion on their roster even though Aaron Jones & Jamaal Williams did a great job last season in the backfield. AJ Dillion was projected by most scouts as a mid to late day three pick, but the Packers decided to reach for their guy early at the end of round two. The Packers finished up day two by selecting tight end Josiah Deguara out of Cincinnati at the end of round three. Josiah Deguara has some potential to come in and compete with last year's third round pick Jacob Sternberger and veteran tight end Mercedes Lewis for playing time at the tight end position.
The Packers did their best drafting on day three believe it or not but that wasn't hard to surpass. On day three the Packers first selected Minnesota's linebacker Kamal Martin who is projected to be an outside linebacker but does have some flexibility to play a little on the inside like an Oren Burks. Then Green Bay rattles off three straight offensive linemen in Michigan's Jon Runyan, Oregon's Jake Hanson, and Indiana's Simon Stepaniak. All three will provide quality depth behind their starting five. The Packers front office deserves praise for this move, especially when compared to Chicago's General Manager Ryan Pace who completely ignored the offensive line until the seventh round. Finally the Packers finished up their 2020 draft class with more depth pieces in the seventh round with TCU's Safety Vernon Scott and Miami (FL) edge rusher Jonathan Garvin. You can never have too many edge rushers, so good pick up with defensive end Garvin with their last pick in the 2020 NFL Draft.
Overall, I thought the Packers had arguably the worst draft class among all 32 teams in the NFL. This is the rough methodology I use to grade each team's draft class.  First, did they get all of their top 3-5 needs in the draft? Did they provide depth in all the correct places by upgrading the team with multiple draft selections? On the previous point, I believe that's what the Packers failed to do in the 2020 NFL draft. The Packers didn't improved their team through the draft for the upcoming 2020 season. They wasted most of their picks adding depth pieces. Not a horrible strategy, but when your first two selections are on a backup quarterback and a third string running back then you start to question what in the world was the front office doing?
Free Agency aside, just strictly based on this draft class, the Packers are one of two teams in the league that did not improve themselves for the upcoming 2020 season. The fact that this 2020 draft class was  the deepest it has ever been at the wide receiver positon combined with the Packers huge need on the outside or in the slot, the front office decided NOT to draft a SINGLE WIDE RECEIVER. That's embarrassing! How can you look at your team and say, yeah we improved our team through the draft without helping out Aaron Rodgers and keep a straight face. I'm sorry Packers fans, but your team deserved my lowest draft grade C-.