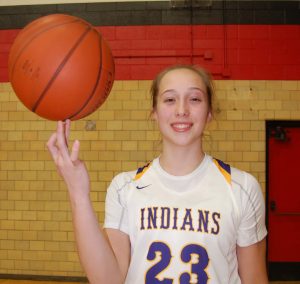 Hononegah's Jordan King is now the scoring queen in NIC-10 basketball.
King scored 25 points in Thursday night's 66-59 loss to Boylan, giving her 2,147 for her career, surpassing Brea Edwards, who finished her career with 2,130 points while playing for both Hononegah and Boylan from 2008-2011.
Edwards and King, along with Belvidere's Amanda Levens (2,078 from 1994-97) and Jennie Crouse of Freeport (2,037 from 1991-95) are the league's only 2,000-point scorers.
The next milestone might be pretty difficult to King to reach: all-time leading scorer in NIC-10 history regardless of gender. Boylan's Lee Lampley scored 2,419 points from 1991-94. King needs 273 to break that mark. She is currently scoring at a 19.7 points-per-game clip, meaning she would have to maintain that pace for 14 more games. The Indians have nine regular season games left, plus playoffs.
For all area basketball stats, click here.
——————————————–
Speaking of that game between the Titans and Indians, it established Boylan as the team to beat in the NIC-10.
Both teams were undefeated coming in and generally considered the teams to beat this season, as they have been the last several years.
While Boylan held the lead most of the game, Hononegah stuck around. But Payton Kennedy's 27-point performance, along with Erin Bishop's 12, sealed the deal for the Titans, who now sit at 10-0 in conference and 18-0 overall. Hononegah fell to 8-1, 18-3.
The two will meet again at Hononegah on Feb. 5, a game you can hear broadcast by Sportsfan 1330.
——————————————–
NIC-10 supremacy in boys' basketball was established the night before the Hononegah-Boylan girls showdown.
East came into its Wednesday contest at Harlem alone atop the conference at  8-0, while the Huskies were a surprising second at 7-1.
The fast-paced, often frenetic game, was tight for three quarters, with the E-Rabs holding a 48-42 edge. but seven different East players scored in the fourth as the E-Rabs went on a 22-11 game and broke things open for a 70-53 victory and a two-game lead in the conference.
Sincere Parker, the league's leading scorer, was unstoppable in racking up 37 points, including five 3-pointers, to lead the E-Rabs.
———————————————–
Tonight's area basketball action features a couple of key games.
In NIC-10 boys action, North is at Harlem. The Blue Thunder handed the Huskies their lone conference loss prior to  Wednesday, when they hit a buzzer-beating shot in the teams' NIC-10 opener.
In Big Northern boys action, the most intriguing game may be Byron at Rockford Christian. The Tigers come in at 1-1 in the conference and 9-5 overall, while RC sits tied atop the league with Rock Falls at 3-0 (11-6 overall).
For full schedules of area basketball action, click here.
For area basketball standings, click here.
__________________________
If you're looking for a full day of great basketball action, check out the Saturday's "Rumble on the Rock," which takes place at the Physical Education Center on the campus of Rock Valley College.
Six games will be played featuring both high school and college action. It starts at 10 am with Jefferson facing East in girls basketball. Then it's Jefferson-East girls at 11:30 am; Guilford-Auburn boys at 1 pm; Joliet vs. Rock Valley College women at 3 pm; Jefferson-East boys at 4:30 and Joliet vs. RVC men at 6.
For more information, click here.
———————————————
Between dance and cheerleading, the Harlem Huskies certainly have both a bright present and future.
For the second time in three seasons, Harlem is the NIC-10 dance champ, after tallying a score of 83.67 on Thursday in the conference meet at East to knock off defending champ Freeport, which scored 83.10.
Now the Huskies will shoot for a state championship, and the road to that crown begins Jan. 19 at the Huntley Sectional.
For video highlights of the competition from WREX, click here.
And on Saturday, the Harlem Middle School cheerleaders will close their season chasing an IESA State Championship in Peoria.
The young Huskies are on a roll, having won every competition they been in this season including last Sunday's ICCA State Championship in Springfield. They beat out 14 other teams in their bracket for their second straight ICCA title.
— Randy Ruef, Sportsfan 1330