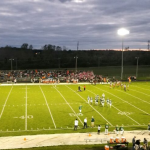 Jefferson 36-34 East: RB Tay'Veon Lake breaks the E-Rabs rushing record! 
In their previous 7 meetings East has come out on top but 5 of those last 7 meetings were decided by a touchdown or less including a 38-34 East victory last season. Jefferson looked to rewrite history on Friday night and finally get over the hump and beat East. The J-Hawks were also coming off a heartbreaking last second loss the previous week vs Auburn. You could say the team was really motivated to win. Sure enough Jefferson came running out of the gate, scoring on their first play from scrimmage and scoring on all of their first four possessions. The E-Rabs kept fighting back, never giving up and even shutting Jefferson out in the second half. Late in the third quarter East's star RB Tay'Veon Lake set a new rushing record for his high school, rushing for over 3,000 career yards in a E-Rab uniform. Big congratulations out to Tay'Veon Lake! Unfortunately Lake did leave the game for awhile with an injury as Jefferson was able to hold off East for a nail-biting win!
Boylan 42-0 Freeport: Boylan locks up the NIC-10 title outright! 
Heading into Friday night Freeport's defense was on fire after allowing a total of 14 points in their last three games. Unfortunately the Pretzels ran into the best team in the NIC-10 as the Boylan Titans improve to 8-0 on the season and stay ranked #3 in the 5A state rankings. With the win on Friday night Boylan improved to 14-1 vs Freeport in their last 15 meetings and the Titans clinched the 2019 NIC-10 conference title outright! Congratulations Titans!
Hononegah 57-34 Auburn: The Indians escape past Auburn to secure a playoff spot! 
Both teams came into Friday night tied for 2nd place in the NIC-10 standings at 5-2 respectively. Auburn came into this match-up with a lot of confidence as they have played Hononegah very tough in recent years  4-3 in their last 7 meetings. It was a very eventful 4th quarter but Luckily Hononegah was able to hold off a late push from the Knights as they escape past Auburn 57-34 to secure a spot in 2019 high school football state playoffs!
Belvidere North 35-0 Guilford: North's ground game helps them improve to 6-2 on the season! 
Even though Belvidere North has won their last 5 meetings vs Guilford this was still the closest lifetime conference rivalry in the NIC-10 record wise with North now leading the series 8-5 after their win on Friday night. The Blue Thunder will have a tough match-up next week vs Freeport who is looking to secure a playoff spot while Guilford will get to battle the other winless team in the NIC-10 the Belvidere Bucs.
Harlem 42-3 Belvidere: Harlem picks up another win as the Bucs stay winless 
Junior QB James Cooper Jr. continues to tear up the conference through the air as he leads his Huskies to another 40 point win over Belvidere for the second straight season. Harlem improved to 11-1 in their last 12 meetings vs the Belvidere Bucs.